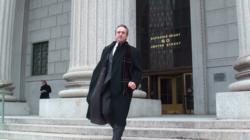 Melville, NY (PRWEB) March 22, 2012
Bryan L. Salamone, Esq. of Bryan L. Salamone & Associates, P.C., a prominent Long Island divorce attorney, will drive from New York to California in the Gumball 3000 Auto Rally, commencing on May 25, 2012. Mr. Salamone will participate in the rally on behalf of his personal charity, Little Sisters of the Poor, and donate all proceeds from contributions to the Queen of Peace Residence run by the charity. Bryan L. Salamone's auto rally team, "Team Salamone," will be the first team to drive a Lamborghini Aventador coast to coast.
Mr. Salamone entered the sport of auto racing and rally driving in 2009. Shortly thereafter, he became a popular participant in numerous events. He has been featured in car magazines and other car enthusiast publications. In 2011, Mr. Salamone participated in the Bullrun Rally that aired on MTV2, a 3,000-mile rally from Las Vegas to Miami.
Since 2009, Mr. Salamone has personally contributed all proceeds from his rally wins to numerous charities through his car rally team, "Team Salamone." Team Salamone has driven in rallies and events to benefit cystic fibrosis research, Diabetics' Research for Cure, the Make-A-Wish Foundation, and Autism Speaks. He has also contributed to private charity events benefitting individuals, such as an individual who received a double lung transplant, the Christopher Hrbek Scholarship Fund, and an upstate NY camp for children with special needs.
About Bryan L. Salamone & Associates
Bryan L. Salamone, Esq. maintains Bryan L. Salamone & Associates, P.C., Long Island's largest exclusively divorce and family law practice. Bryan L. Salamone & Associates has achieved significant victories for thousands of clients going through divorce proceedings, and they continue to do so daily throughout the New York State court system. Mr. Salamone handles many of the divorce and family law trials himself and personally meets with clients during free initial consultations. His record of victories on behalf of thousands of clients is a testament to his professionalism and talent.
Mr. Salamone has represented numerous celebrities and is well-known for his courtroom style and aggressive tactics. New York publications frequently request quotes from Mr. Salamone and ask him to comment on prominent divorce and family law issues. His victories have been covered in publications and network newscasts, and he has commented on changes in the law and their impact on local television.
For more information or to set up a free consultation, contact the firm.