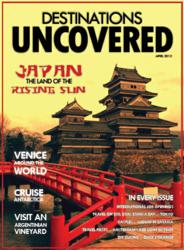 Experience the most immersive travel possible - go deeper to travel better with Destinations Uncovered.
Tampa, Florida (PRWEB) March 23, 2012
Destinations Uncovered today announced the successful launch of the travel industry's newest digital travel magazine on Zinio. With articles on cultures, history, places, and food around the world, Destinations Uncovered offers an inclusive look at the most fascinating aspects of the world - not just where to stay or how much to spend, but the history behind an old castle or the traditions and values of a country's people. Their motto is Go Deeper, Travel Better – the deeper you go into a country's experience, the more you'll get out of it, whether traveling or just learning.
Destinations Uncovered travel magazine invites readers to experience interactive media on a whole new level - listen to background music to "set the stage" for an article, fly over sites in a satellite tour, download virtual tours to your smartphone or GPS. Take armchair travel to new heights – learn crazy facts about other cultures and people, read true stories about historic people and places, learn when to splurge and when (and how) to save on the best travel experiences, and see the best adventure travel destinations through the eyes of people who've been there.
In addition to their intriguing cover stories (April's cover: Why Visit Japan) and adventure travel articles (again in April: Adventure travel on Water, Air, and Land), each issue will feature articles on Money, History, Culture, Food. Regular features include…
Travel Firsts – firsthand account of an adventure travel experience
Money Matters – what you need to know about important money issues
Travel on $50, $500, $5000 – in a different city each month
Castles – the history behind some of the world's greatest castles
Cross-cultural What?! – differences around the globe
Eat Me – Restaurant Reviews
DIY Cuisine – recipes for national dishes
Travel Movies – reviews and recommendations
International Job Openings – don't just travel abroad, live abroad
Craziest Travel Experience – submitted by readers
The magazine is underwritten by international teaching job company Educators Overseas "to give expats a periodical of substance—more than just a glorified travel guide characteristic of so many of today's travel magazines", says EO Director Christy Grimste. For more information, visit http://www.destinationsuncovered.net or preview the premiere issue on Zinio.