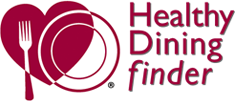 Spring is a time for renewal, and that is a great time to look at new ways to eat healthier...to take advantage of the season's bounty of fresh ingredients, especially when dining out.
San Diego, CA (PRWEB) March 21, 2012
Spring has sprung, and it's around this time that Americans are reassessing and ramping up their New Year's diet and fitness goals to make sure they're ready for Spring Break, the upcoming swimsuit season and other outdoor sports and activities. Eating and living well are essential to maintaining those health and wellness goals, and HealthyDiningFinder.com offers helpful – and healthful – solutions to enjoying dining out, without the guilt of breaking the diet regimen.
Celebrating its fifth anniversary this month, this one-of-its-kind, premier restaurant search engine has been the leading online nutrition resource in identifying healthier choices at restaurants nationwide – from fast food to fine dining. HealthyDiningFinder.com is the signature website of California-based Healthy Dining. Healthy Dining's expert team of registered dietitians and masters-level health and communications professionals is at the forefront of helping health-conscious individuals find restaurants that offer dietitian-approved Healthy Dining menu choices with corresponding nutrition information.
Site visitors can easily navigate through a newly redesigned website to search for Healthy Dining-approved restaurants in their city, or even when they're traveling and on-the-go with HealthyDiningFinder.com's mobile site and iPhone app. The mobile platforms are especially convenient for families traveling during Spring Break or for upcoming summer vacations. Parents can search among 80+ restaurant companies nationwide offering healthier kids' meal options, thanks to the Kids LiveWell initiative, a collaboration with the National Restaurant Association. The online resource also has added new features and functionality to its site, including a forum for visitors to ask health and nutrition questions directly to Healthy Dining's registered dietitians, download restaurant recipes, sign up for newsletters, and read the latest in nutrition news and trends on Healthy Dining's blog.
"Spring is a time for renewal, and that is a great time to look at new ways to eat healthier," said Anita Jones-Mueller, MPH, president and founder of Healthy Dining. "One of the best things about this time of year is being able to take advantage of the season's bounty of fresh ingredients, especially when dining out. Eating lighter fare and trying menu items with seasonal produce are excellent ways to cut back on fat and calories and enjoy meals that are flavorful and healthful."
Jones-Mueller added that eating healthfully does not mean sacrificing the flavor or integrity of a dish or a favorite meal. Healthy Dining's nutrition specialists work closely with restaurants to help modify menu items or enhance their flavor profiles, using alternative ingredients such as herbs, spices and other seasonings, without introducing additional fat, calories or sodium. The results are delicious and nutritious options that are flavorful – and flattering to the waistline. Also, with the change in seasons, restaurants often update their menus to include the freshest of the season's produce – a prime opportunity for diners to increase their servings of fruits and vegetables, which are high in vitamins, fiber and other nutrients.
Whether it's a local, mom-and-pop café or a favorite restaurant chain, HealthyDiningFinder.com features a wide variety of restaurants, as well as myriad healthful menu choices that can meet any consumer's dietary preferences. With additions every week, there are more and more restaurants and menu options to choose from on HealthyDiningFinder.com. Here are some of the restaurants that have recently joined HealthyDiningFinder.com (For a complete list of new additions, click here.):

Elevation Burger (multi-state)
Fiorella's Jack Stack Barbecue (Kansas City, MO)
Macaroni Grill (multi-state)
Outback Steakhouse (multi-state)
Quaker Steak & Lube (multi-state)
Sake Sushi (San Diego, CA)
Sergio's (Miami, FL)
Spoonriver (Minneapolis, MN)
Tabouli Grill (Stamford/Southport, CT)
Zoës Kitchen (multi-state)
HealthyDiningFinder.com was launched nationwide in March 2007. Prior to that, Healthy Dining was the established leader in restaurant nutrition, publishing 19 editions of restaurant guidebooks for the Southern California area, including Healthy Dining in San Diego, Healthy Dining in Los Angeles and Healthy Dining in Orange County. In 2006, Healthy Dining expanded nationwide via the Internet with partial funding through the Centers for Disease Control and Prevention's (CDC) Small Business Innovative Research Program (SBIR).
For more information about Healthy Dining or to review restaurants in your area, visit http://www.HealthyDiningFinder.com.
About Healthy Dining:
Since 1990, Healthy Dining's culinary nutrition experts have been guiding and inspiring chefs and restaurateurs to create and serve a selection of Healthy Dining menu options. A leader in restaurant nutrition, the company works with hundreds of restaurants and has analyzed thousands of menu items for nutrient content. In collaboration with the National Restaurant Association, Healthy Dining leads the largest-ever restaurant industry nutrition initiative. Through HealthyDiningFinder.com, the only resource of its kind, Americans can find dietitian-approved, Healthy Dining menu options and view corresponding nutrient information (calories, fat, etc.) for restaurants that span fast food to fine dining, coast to coast. The site is promoted to the growing segment of health- and weight-conscious consumers through employers, health organizations, health insurance companies, weight control programs, fitness centers, the media, and much more. The Centers for Disease Control and Prevention (CDC) provided partial funding for the development of the initiative.