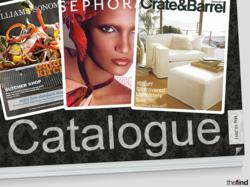 The updated version of our app contains over 60,000 images from more than 11,000 pages of print catalogs that have all been converted to the Retina display format
Mountain View, Calif. (PRWEB) March 21, 2012
Catalogue by TheFind took home the award for the best retail app at last night's 2012 MediaPost Appy Awards. Concurrently, Catalogue was updated to take full advantage of the dazzling new Retina display in the latest iPad released last Friday. The new tablet's HD retina display means users can now browse their favorite retail catalogs using the updated Catalogue app like never before. Images in the catalogs literally pop off the screen making it easy for people to zoom in and see details like stitching, colors, textures and more revealed with unparalleled clarity. Super high-res images are just the latest feature that sets Catalogue apart from all other shopping apps, and one more reason why it was awarded the 2012 Appy Award for Best Retail Shopping App.
"The updated version of our app contains over 60,000 images from more than 11,000 pages of print catalogs that have all been converted to the Retina display format," said Ramneek Bhasin, VP and GM of Mobile at TheFind.com. "With these high resolution images, we've tuned network and memory usage to ensure crisp and smooth viewing on the new device as well as prior versions."
With Catalogue, nearly 1 million shoppers now have about 200 up-to-date catalogs, look books and weekly circulars from many different brands and retailers' right at their fingertips. Unlike traditional print catalogs, however, Catalogue allows consumers to browse their personal favorites electronically right from their tablets, check local store availability, peek at retailers' sale emails, and even see how an item would look in their own home.
Responding to the growing presence of tablets in the hands of shoppers, retailers have been quick to get on board. The team at TheFind works directly with major brands and retailers such as Nordstrom, Crate & Barrel, Toys 'R Us, Dillard's, Williams Sonoma, and many more.
Catalogue by TheFind is a free app that is available for all models of the Apple iPad, for larger screen Android phones and Android tablets, and is also the only catalog app available for Amazon's Kindle Fire.
Links: http://www.thefind.com/apps
Images: http://s667.photobucket.com/albums/vv36/Appency/Catalogue/