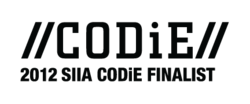 Being recognized as a CODiE finalist for the 2nd year in row is a testament to InfiniDB's performance, simplicity of deployment and maintenance, and its integration flexibility in Big Data environments.
Frisco, TX (PRWEB) March 21, 2012
Calpont Corporation, a leading provider of high-performance analytic databases, announced today that Calpont InfiniDB has been selected as a finalist for Best Database Innovation in the Software & Information Industry Association (SIIA) 27th Annual CODiE Awards. The CODiE Awards Best Database Innovation category recognizes the best solution for the storage, organization, management, search and retrieval of large quantities of data in a business environment for any range or combination of activities, including financial, contact, records management, research, documents, and other sources.
"We are honored to be a finalist for the 2nd consecutive year in the CODiE awards," said Nick Ochoa, vice president of marketing for Calpont Corporation. "InfiniDB was designed from inception for massive scale, high performance dimensional analytics, predictive analytics, and ad-hoc business intelligence. Being recognized as a finalist is a testament to its performance, simplicity of deployment and maintenance, and its integration flexibility in Big Data environments."
Nominated products were extensively reviewed by executives with deep industry expertise who acted as judges to select the finalists. These products were reviewed through live demonstrations, trial access, and supplementary documentation. Winners in each category will be determined after a vote by SIIA software members that include companies developing the applications, services, infrastructure and tools that are driving the software and services industry forward. Finalists are recognized for outstanding achievement and vision in the software and information industry. The winners will be announced on Thursday, May 10, at the CODiE Awards Presentations held in conjunction with the SIIA's annual All About the Cloud conference.
Rhianna Collier, vice president of the SIIA Software Division, commended the companies that qualified as finalists, "All of this year's CODiE Awards finalists should feel proud of making it to this stage. We're pleased with all of this year's nominees, and the finalists reflect excellence and innovation in the business software industry."
InfiniDB is a massive parallel processing (MPP) columnar solution that executes SQL written queries as parallelized map and reduction operations, providing the best of both performance and scale for analytics. When companies query billions of data points, InfiniDB's unique two-tier distributed architecture optimizes query processing to all available CPU threads, while minimizing I/O reads from disk, accessing only the data required for analysis. Complex analyses that used to take hours now take minutes or seconds, with consistent, repeatable performance. Unlike, MapReduce, NoSQL and traditional row RDMS offerings, InfiniDB is optimized for large scale workloads out-of-box, requiring no indexes, materialized views, manual tuning, or manual partitioning – it all happens automatically.
Tweet this: News: @Calpont finalist for Best Database Innovation 2nd consecutive year #CODiE12 http://bit.ly/GHHnYv #MySQL #InfiniDB #Analytics #bigdata
About SIIA
The Software & Information Industry Association (SIIA) is the principal trade association for the software and digital content industry. SIIA provides global services in government relations, business development, corporate education and intellectual property protection to more than 500 leading software and information companies. For more information, visit http://www.siia.net.
About Calpont
Calpont Corporation is a provider of scalable, high-performance column-oriented analytic databases enabling ultra-fast, deep analysis of massive data sets. InfiniDB Enterprise is the emerging choice for demanding data warehouse, business intelligence, reporting, and analytic deployments. Known for its rapid implementation time, unmatched operational simplicity and extraordinary value, InfiniDB provides a proven solution for data-intensive businesses, including those in the software, online business, telecom, and social spheres. For more information, please visit http://www.calpont.com, join our community at http://www.infinidb.org, or follow us at http://www.twitter.com/calpont .
MySQL is a registered trademark of Oracle and/or its affiliates. Other names may be trademarks of their respective owners.