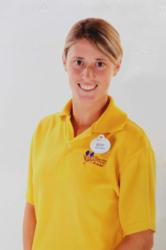 It is inconceivable that anyone could vanish from a cruise ship without someone knowing exactly what happened . . .
Miami, Florida (PRWEB) March 21, 2012
One year ago tomorrow, twenty-four year old Rebecca Coriam disappeared from the Disney Wonder cruise ship.
Rebecca worked aboard the Wonder as a youth counselor. She was responsible for taking care of the children aboard the cruise ship. Rebecca was last seen just before dawn on March 22, 2011.
Disney Cruise Line listed Rebecca as "missing at sea."
According to BBC News and the Guardian newspaper, Rebecca's family, Mike and Ann Coriam from Chester, England, have received little information from either Disney or the police in the Bahamas (where the cruise ship is flagged) regarding what happened to Rebecca in the early morning hours of March 22, 2011. It has been one year since Rebecca has been lost. The family has more questions than answers at this point.
To help find information about what happened to their daughter, the Coriam family retained maritime lawyer Jim Walker of the Miami-based law firm of Walker & O'Neil l. Mr. Walker is an internationally known lawyer whose practice focuses on cruise ship matters, including disappearances of passengers and crew members and crimes on the high seas.
"In this day and age," Mr. Walker commented, "it is inconceivable that anyone could vanish from a cruise ship - particularly a ship catering to families and children - without the circumstances being recorded by closed circuit television cameras."
Rebecca's disappearance has received attention in the United Kingdom. BBC covered the story and the Guardian newspaper, among many others, published an article "Rebecca Coriam - Lost at Sea."
Rebecca's case has been discussed in the House of Commons in England. Her MP, Stephen Mosley, says Disney was " "more interested in getting the ship back to sea than in investigating the case of the missing member of their crew." He also stated "it's appalling" that only one policeman from the Bahamas – "an authority internationally recognized as almost toothless" – was called to investigate. He said "flag of convenience" countries such as the Bahamas – as they're called in the shipping world – shouldn't be left to conduct these kinds of investigations.
Countries as far away as Australia have demonstrated interest into what happened to Rebecca. Australia's "Dateline" recently aired a special program, "Lost at Sea," which you can watch in the attached video.
The United States media, so far, has demonstrated little interest in the case, although Disney and its cruise line, the Magical Cruise Company, are based in the U.S.
The Coriam family will be traveling to the U.S. seeking information about their daughter. If you have information about Rebecca or if you are interested in interviewing them or discussing the matter with their counsel, Jim Walker, please use the contact information below.
Jim Walker:
Telephone: 305 995 5300
Email: jim(at)cruiselaw(dot)com
Web: Cruise Law News
Coriam family:
Telephone: 011 44 774 735 9968
Email: help(at)rebecca-coriam(dot)com
Web: Rebecca Coriam