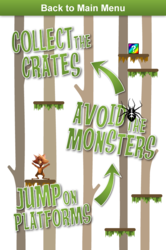 Chester, Cheshire (PRWEB UK) 27 March 2012
A fun and addictive game with an educational angle has been released on the Apple App Store, which challenges kids and grown-ups alike on citizenship topics such as staying safe on-line and environmental awareness.
"Initial feedback from parents and teachers has been phenomenal," comments Ian Jackson, Project Manager from AP Edutech. This innovative app bridges the gap between education and gaming creating a dynamic content-rich gaming experience with an educational subtext.
'Dizzy Heights' is available now to download from the Apple App Store and is a game which incorporates a library of questions covering a wide variety of issues. Questions are posed throughout the game for the user to answer and score points. We've heard from teachers and parents who are praising the way this game tackles these subjects.
"I have found this app a great way to engage pupils with citizenship, PSHE and environmental issues. It's a great way to motivate the class on the topic. I use it as a reward for the last 10 minutes of the lessons focussing on these issues, the children love it. I think they forget that they're still learning while having lots of fun," comments Natalie Guy a Primary School Teacher.
The educational aspect of the game is enveloped into the game-play delivering a naturally immersive experience promoting learning in a fun, interactive way. Developed by Chester-based company, AP Edutech, the app has been launched to accompany the hugely popular Barney and Echo book range produced by the Police Community Clubs of Great Britain.
The new app is looking to provide a new interactive resource which will help further educate children around citizenship and responsible decision making.
The game is available now to download from the Apple App Store and also from http://www.barneyecho.co.uk/dizzyheights.
Notes for editors:
The Police Community Clubs of Great Britain (PCCGB) was founded by four Metropolitan Police Officers in 1992, with the initial idea of using boxing gyms to provide young people with a safe alternative to roaming the streets. The PCCGB now runs a network of young people's clubs that extends across the UK, offering a range of activities and learning opportunities. Each club has a serving or retired police officer or member of the Home Office serving on its committee.
The Police Community Clubs of Great Britain supports the personal and social development of young people through an established network of young people's clubs, which cover the whole of the United Kingdom. The clubs' objective is to provide opportunities, which help and support young people in achieving their personal goals and becoming responsible citizens.
The Barney & Echo project has been designed to support teachers and parents in addressing drugs, alcohol and tobacco (The Magic Mirror), bullying and vandalism (A Friendship Made), gang and knife crime (Echo's New Watch) and internet safety and cyber bullying (Caught In The Web) with key stage 1 and 2 children. The resources are punctuated by activities, which develop the learning objectives for the children. The books are fun and interactive, supporting the PSHE curriculum for primary school teachers as part of the children's citizenship education.
Contact info:
Alex Phennah
Marketing Managed
Dizzy Heights Game
AP Edutech
marketing(at)ap-edutech.com
Tel: +44 (0)1244 314063
Mob: +44 (0)7919 360622
Skype: lex.01
http://www.barneyecho.co.uk/dizzyheights
http://itunes.apple.com/us/app/barney-echo-dizzy-heights/id473921059
https://www.facebook.com/DizzyHeightsGame
https://twitter.com/dizzyheightsapp