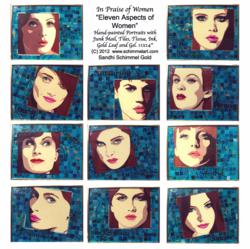 In response to attacks on women in the media and politics, artist Sandhi Schimmel Gold creates positive images of womanhood.
Richmond, VA (PRWEB) March 23, 2012
Artist Sandhi Schimmel Gold grew up during the explosive era of the Woman's Movement. She was influenced by strong women who demonstrated that being born female did not determine a girl's ability to have a career, make her own choices or be an independent businesswoman. The advent of "the pill" and the sexual revolution were hallmarks of her generation.
Her own mother, the late Betty Schimmel, survived the Holocaust, raised three children and became a successful artist, businesswoman and author. Following in her mother's foot steps, Sandhi took an entrepreneurial approach when her talents led her to careers in fashion design, visual merchandising and fine art.
The artist has been very disturbed by recent attacks on women. Women's health issues and sexual practices have dominated the national media for the past few weeks. These include: the contraception debates, Rush Limbaugh's sexist remarks and gender-based slander, to new abortion bills that invade a woman's privacy. She is also fearful that conservative candidates tout smaller government, but seem more interested in controlling women's sexual practices than fixing the economy or ending the war.
Horrified by what seems to be a step back in time for American Women, Sandhi Schimmel Gold determined her response would be an artistic one - necessary to combat the seemingly inflammatory and negative portrayal of women in the media. She created a group of paintings that illustrate the multifaceted traits of womanhood. They were completed in March 2012, in time for Women's History Month.
"In Praise of Women - Eleven Aspects of Women" is a collection of eleven small [11x14"] mixed-media creations. Each portrays one quality of Womanhood, defined by the artist: Alluring, Creative, Expressive, Feminine, Genuine, Knowing, Natural, Nurturing, Sincere, Strong and Wistful. The entire grouping represents the ideal woman; as most women have several, but not all attributes.
Each is an original painting, surrounded by a variety of tiles of various materials. The artist's Blog goes into additional detail about the process of creating the portraits, inspiration and meaning behind each attribute. Readers are invited to participate and suggest inspiration for future paintings.
The grouping will be released Friday, March 23, 2012 at 6:30 p.m. at the artist's studio/gallery space in Richmond, VA. They will be shown as one statement - and remain on display and available for purchase through April 24, 2012.
The artist lives just outside Richmond, Virginia [S. Chesterfield] and currently shows her work in galleries in Arizona, California, Illinois, South Carolina and Virginia.
The main body of her work focuses on portraits of women, made from upcycled junk mail and recycled materials.
Collectors can't get enough of her work; Sandhi's art is in private, corporate and museum collections around the world.
For more information about the artist or for hi-resolution photographs of these or other pieces, please E-mail Sandhi artist@schimmelart.com
About Schimmel Art: They say a picture is worth a thousand words...
"My work reflects our society's obsession with beauty through advertising - and the endless images that bombard us daily. It is a purposeful intermix of images derived from advertising and thousands of in congruent pieces - images and text - from advertising that arrives through my mailbox. Assembled like a mosaic; the junk mail paper tiles create an entirely new image - an eclectic and tactile portrait reworked in my imagination, utilizing materials that would otherwise go to waste." - Sandhi Schimmel Gold