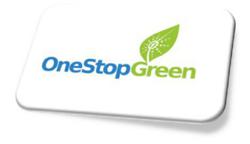 Liz makes an excellent addition to the team. She brings with her a wealth of experience and corporate knowledge to help One Stop Green expand its customer base as well as improve our reputation within industry.
Houston, TX (PRWEB) March 21, 2012
One Stop Green, a US based sustainability consulting firm and online retailer for green, energy efficient products and services has added Liz Newman to lead its Corporate Development efforts.
Liz Newman, CGB, CGP, GMB is the Director of Corporate Development for One Stop Green, based out of its Corporate Headquarters in the Energy Capital of the World - Houston, Texas. In this position, she manages business development, the sales division, public relations, product development and marketing. Liz has a multifaceted background in renewable energy and is a Certified Green Professional. From Solar PV, Solar Thermal, Geo Thermal, Solar pool heating, Ad and Ab-sorportion Chillers to Solar LED Streetlights and EV Charging Stations, Liz is a well-qualified professional in the field of renewable technology.
Liz started her career in the home building industry in 1990 and in 2002 opened a successful home building company in Dallas, Texas. In 2007, she was one of the first builders in the city of Dallas to build her homes truly "Green" and was voted by Modern Luxury Magazine as one of Dallas' "10 Most Dynamic Women." In 2009 one of her larger luxury homes was selected to be on the "2009 NAHB Green Tour of Homes." This home was one of the first in Dallas to include wind energy. Also in 2009, Liz was named "Dallas' 2009 Certified Green Professional of the Year" and she was featured on the NBC Nightly News with Brian Williams to represent "Green Building."
After many years of service at the Home Building Association of Greater Dallas, Liz climbed the ladder to the role of President in 2010. The HBA of Greater Dallas is the 5th largest home building association in America, which is also the association responsible for creating the "Green Built North Texas" program for builders. All along her home building career, Liz had been educating herself in renewables, knowing full well that the future for her was in renewable energy. Liz has sat on the Sub-committee for Energy and the Green Building Working Group at the National Association of Home Builders for many years and has won many awards for her years of community service and helping others learn what it is to be "green." Currently Liz also serves as the Manager of the Bay Area Builders Association for the Greater Houston Builders Association.
With the addition of Liz, One Stop Green has assembled a business development staff with over twenty years of experience in Green Building and Technology. One Stop Green, LLC facilitates environmentally friendly improvements to residential and commercial properties through distribution of green, energy efficient equipment. They offer every product needed for sustainable energy independence in the categories of solar, wind, water, lighting, green building, and green living solutions enabling homeowners, businesses and commercial property owners implement more energy efficient consumption methods.
Nathan Kaufman
http://www.OneStopGreen.com
P: 877.449.9110 | O: 713.541.2739 | C: 210.846.5900