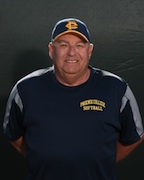 Each player will have their ups and downs, just like in life. But when you fight through adversity, you learn how to handle adversity. --Coach Heinz Mueller
Phoenix, AZ (PRWEB) March 23, 2012
Phoenix College will honor Head Softball Coach Heinz Mueller for his 1,000th win as a college coach prior to the March 24 home game against Scottsdale Community College at Phoenix College Softball Stadium. First pitch is slated for noon.
With a 7-5 extra inning win against Yavapai College on Saturday, March 17, Mueller's players earned the historic victory for their coach, allowing him to become one of the few National Junior College Athletic Association (NJCAA) coaches to reach that goal. He is the third-winningest coach in NJCAA softball history.
During his 22-year tenure at Phoenix College, Coach Mueller's teams have amassed a 1,000-388 win-loss record and have captured seven NJCAA national championships. His teams also have produced 90 NJCAA/National Fastpitch Coaches Association (NFCA) All American players since 1990.
"Any success I attribute to my coaching staff," said Mueller, who is in the NFCA Hall of Fame and a member of the PC Athletic Hall of Fame. "It's the players and coaches that get you 1,000 wins. I'm just happy to be part of it."
Since 2000, each of his teams has been named an NFCA/NJCAA Academic All-American team, which requires a team grade point average of 3.25 to 3.55. In all, 44 softball team members during Mueller's tenure have become NJCAA/NFCA Academic All Americans.
"A lot of players have come here and had success on and off the field," said Coach Mueller. "It's most important to be focused off the field because if they are not it will be hard to be focused on the field."
His coaching philosophies are based on being smart in the field, being mentally disciplined and having fun.
"Each player will have their ups and downs, just like in life," he said. "But when you fight through adversity, you learn how to handle adversity."
PC Athletics Director Samantha Ezell said it's rare to see a coach with such outstanding accomplishments spend his or her career at the same institution.
"PC is extremely honored and proud to have a coach of Coach Mueller's stature and accomplishments," she said. "He embodies the mission of PC and PC Athletics, displaying success on the field and in the classroom."
Saturday's brief ceremony prior to the noon game start will include a presentation of a plaque to Coach Mueller.
Phoenix College is one of the 10 regionally accredited Maricopa Community Colleges.