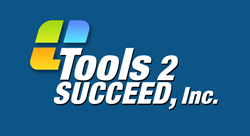 Every seminar, every class, I always look for an "AHA" moment. With the conflict presentation. I had one. I appreciate your allowing me to utilize the presentation as a tool to enhance my skill set in conflict resolution.
Los Angeles, CA (PRWEB) March 21, 2012
Sheryl Tuchman, SPHR, CEO of Tools 2 Succeed, Inc. presented "Conflict Management" at the Annual HR Star Conference at the Los Angeles Convention Center. Her use of animals to represent the 5 Conflict Management styles engaged the attendees. Fun and interactive exercises had everyone in the room standing and laughing as they learned valuable tools for resolving conflicts.
Attendees learned to resolve conflict in a collaborative way so that everyone wins.
Advice for "fair fighting" included:

Limit disagreements to those related to the task
Eliminate personal threat
State the problem – be specific
Find common ground
Work only on those differences that must be resolved
Stick to one issue at a time
Use "I" messages to describe feeling
Attendees received a Conflict Management Style Assessment to determine their primary and secondary styles. Many were surprised to learn how many different styles they use in everyday conflicts.
About Tools 2 Succeed, Inc:
Tools 2 Succeed provides business training, consulting, and coaching services to facilitate organizational growth and change. Services include onsite employee development training, leadership workshops, outplacement services, behavioral assessments, and an extensive offering of e-learning courses. Tools 2 Succeed is an Approved Provider of the Human Resources Certification Institute (HRCI), offering fun and interactive public workshops, webinars, and online e-Learning courses for HRCI recertification credit. For more information, please visit http://Tools2Succeed.com.
About HR Star Conference
The annual HR Star Conferences in Los Angeles, San Francisco, Cleveland, and Atlanta, are organized and produced by Braden Albert of Abbington Court Media. The HR Star Conference provides a day of learning, sharing, networking, benchmarking and community building, all at little or no cost to HR professionals. A variety of cutting-edge topics, legal updates and practical workshops are offered that both expand the mind and uncover specific solutions to the HR challenges professionals are facing . For more information, please visit http://hrstarconference.com.