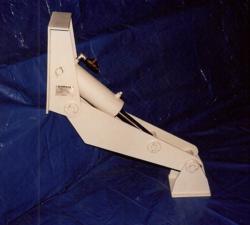 Gizmoplans enables companies and individuals with industrial vehicles to save money by building their own outriggers
Duluth, MN (PRWEB) March 22, 2012
Plans for building hydraulic outriggers have been unveiled on Gizmoplans' website, joining the large assortment of DIY projects that the company offers to consumers. The easy to read plans give companies and individuals with industrial vehicles the opportunity to construct truck outriggers which are heavy duty in design and fold up neatly beneath the truck's bed. The plans are the latest DIY project to be released on the Gizmoplans website under their fabrication equipment tab.
Hydraulic outriggers were invented to provide stability to industrial trucks that have a tendency to tip over when in use, causing serious injury to workers. These truck outriggers are used on cherry pickers, fire trucks, truck cranes, bucket trucks, tank trucks, and others. Outriggers are installed in the rear portion of an industrial truck and extend outward on either side of the truck to provide stability to the vehicle. Gizmoplans enables companies and individuals with industrial vehicles to save money by building their own outriggers with detailed plans they can download for a small fee. The plans include over 15 pages of detailed drawings such as assembly layout, individual piece parts, and side views. A bill of materials is listed on each piece part drawing, providing a list of all stock steel parts that are needed as well as weight, quantity, and description. Measurements are indicated on the plans to make it as easy as possible for the outriggers to be constructed correctly.
The hydraulic stabilizer plans are easy to follow and provide everything a company or individual needs to build them. Specifications for these truck outriggers are as follows:

5" Hydraulic cylinders
10' – 0 Overall span
Folds under bed for storage
Complete with spool valve
In addition to the detailed plans, Gizmoplans also provides construction support with their engineering staff which can be reached via email or phone. The plans enable consumers to build their own truck stabilizers or they can use the plans to have a local company build it for them, saving them money off of retail products. If consumers are not happy with the plans they download, Gizmoplans offers a 100% no risk guarantee and will refund the price, no questions asked. For more information on truck stabilizers as well as other DIY plans, please visit the Gizmoplans website.
About Gizmoplans
Gizmoplans is an online informational website that provides businesses and individuals with downloadable DIY solutions. These plans can be used to build projects for recreation, hobbies, recycling, industry, woodcrafts, metal fabrication, alternative energy and much more. Gizmoplans is also a hub for businesses and individuals to upload and sell their own plans, patterns, how-to ebooks and more. This online marketplace can benefit both the purchaser and the seller in the DIY community. To get more information on DIY plans and DIY projects, visit Gizmoplan's website at http://gizmoplans.com/.