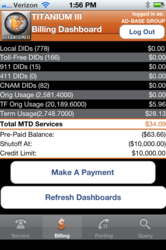 The mobile app is a first amongst wholesale VoIP carriers and it is generating a lot of interest in VoIP Innovations' services.
Pittsburgh, PA (PRWEB) March 21, 2012
VoIP Innovations, North America's premier wholesale VoIP carrier, introduced its iPhone and Android smartphone app at the ITEXPO in Miami last month. "The mobile app is a first amongst wholesale VoIP carriers and is a perfect complement to our back office and industry leading DID and origination services, stated Corey Potts, VP of Sales". The app is a scaled down version of VoIP Innovations' robust BackOffice portal, Titanium III. The app provides customers with instant access to key account metrics such as; DIDs, usage, billing, payments, and porting information. "Our goal was to build an app that allowed our customers to manage their account anywhere and in real-time, said Tim Linn, Lead Engineer."
However, VoIP Innovations is not done developing the app and plans to add more features to it. "As our Titanium III platform evolves, so will our app", stated Jason Tapolci, President of VoIP Innovations. "Our philosophy has always been to look to our customers for ideas and provide them with the tools they need to more efficiently manage their carrier services. Real-time information is the key to being successful in the voip industry and providing that data is an essential component to our service offering."
This app is free with all VoIP Innovations accounts and has already made life easier for their customers. "My other carriers don't provide the tools and functionality that I get with VoIP Innovations", stated John Burke with North Carolina WISP. "I use other carriers for our local DID's, but they require sending them a spreadsheet and we must order in large quantities. They don't provide a backoffice to manage our services and I have to call or email someone to get answers. This app is an additional tool that I can use when I'm not in my office or at a client's home. Add the ability to use the full Titanium III back office on my iPad and this gives me the freedom to manage my account from anywhere"
As more resellers are starting to offer Hosted PBX and VoIP service, they are finding that inventory management, scalability and reporting is just as important as pricing and quality of service. VoIP Innovations will continue to innovate and develop the tools its customers are needing to be successful. The VoIP Innovations Titanium III App is available for download in both the iTunes and Android App store. It can also be downloaded directly from VoIP Innovations' website at http://voipinnovations.com/TIII_Mobile.html
VoIP Innovations is based in Pittsburgh, Pa and provides wholesale VoIP services to Carriers, ITSP's, Calling Centers, Calling Card Companies and SMB/Enterprise. These services include VoIP Origination, Termination, 411, e911, Caller ID and more. To learn more about VoIP Innovations, visit them at http://www.VoIPInnovations.com or 877-478-6471.