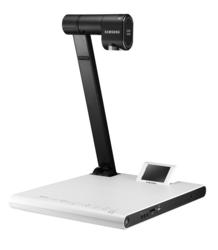 With the SDP-960, objects, photos, maps, x-rays and more can easily be projected onto a screen or on monitors for review by the judge, jury, and witnesses.
Ridgefield Park, NJ (PRWEB) March 21, 2012
Samsung Techwin America's Electronic Imaging Division (http://www.samsungpresenterusa.com), a market leader in document camera technology, today announced the SDP-960 document camera for the courtroom market - providing selectable HD output at 30 fps for smooth and fast video display, all on a newly designed platform. "This document camera has been designed with Samsung's superior optics and features that customers both recognize and appreciate," said Richard Bellomy, V.P. of Sales for the Electronic Imaging Division. "With our new low profile design, wide-angle display area, and Samsung's standard, high quality color rendition, the SDP-960 should be considered for any new or existing document camera upgrades in both courtrooms and classrooms."
With a default display resolution of SXGA, end-user's can select multiple output resolutions to match their display device including WXGA, 720P, 1080P, UXGA, and even XGA. The SDP-960 includes a built-in preview monitor, internal memory, image divide, digital image rotation, and a mask function, all in a compact stored profile of only 2.6" in height. Equipped with Samsung's proprietary dual noise reduction technology, the SDP-960 provides crystal-clear, noise-free results even in low-light environments. However a built-in single LED lamp is available when additional lighting is desired.
With its 48X, fast and accurate AF zoom lens (6X Optical + 8X Digital), the SDP-960 delivers the quality you'd expect from Samsung, accurately displaying the smallest details of a 3D subject up to full size 11"x17" documents. This new model can also capture and record still images as well as full motion (30fps) video with audio of any presentation. The 960 is compatible with both USB thumb drives (up to 16 GB) and SDHC memory cards (up to 32 GB) which can also be mounted as drives to download your captured files from the SDP-960 to a computer.
Connectivity features include two, switchable VGA inputs, one VGA and DVI output, USB2.0, RS-232, composite video out, RS-232, as well as audio out and microphone inputs (for recording and playback). As with the low-cost SDP-860, the SDP-960 is compatible with any interactive whiteboard and will function as a web cam input allowing users to use with multiple applications including Skype, Adobe Connect, lecture capture applications and much more.
An SLB-9 Accessory Light Box is available for use with transparency material or x-rays, as well as the Bag-960, a padded carrying case with shoulder strap making the SDP-960 a portable courtroom presentation solution.
"The document camera has become a standard piece of equipment in the courtroom for evidence presentation," said Bellomy. "With the SDP-960, objects, photos, maps, x-rays and more can easily be projected onto a screen or on monitors for review by the judge, jury, and witnesses."
To learn more about the Samsung SDP-960 or to arrange for an evaluation or demonstration, please call 310-605-3306 or visit Samsung's web page at http://www.samsungpresenterusa.com.
About Samsung Techwin America – Electronic Imaging Division
Samsung Techwin America is a market leader in document cameras for use in the education sector, ranging from K-12 to universities, courtroom applications, as well as numerous Fortune 500 companies. Every Samsung document camera provides the quality and innovation that has built the Samsung name─ quality optics, a robust feature set, a wealth of user-friendly features, and state-of-the-art digital imaging technology. Additionally Samsung Techwin markets a full line of security products under the CCTV Division. Samsung Techwin America is the U.S. subsidiary of Samsung Techwin Co., Ltd. in Sungnam Kyungki-Do, Korea. Samsung is the world's 11th largest company. http://www.samsungpresenterusa.com.
All trademarks in this release are the property of their respective owners.