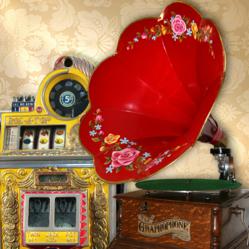 Tehachapi, CA (PRWEB) March 21, 2012
A special highlight section of the sale consists of early 20th century phonographs, antique music boxes and vintage slots. Most of the items have been fully restored and are in very good working order. "Care was taken to ensure they were preserved correctly for generations to come," said Government Auction's Paul Sabesky.
One of the top lots of the sale is an antique miniature Dewey 50-cent slot machine. Handmade of solid oak, it is one of only a few such machines that were produced. It is expected to make $24,000-$48,000. A 1947 Watling rol-A-Top checkerboard twin jackpot slot machine operates on nickels. A real eyecatcher, it is estimated at $10,200-$20,400. Leading the antique phonographs is a Victorian oak horn-model Victor model, which is estimated at $21,000-$42,000. Another beauty, an antique countertop phonograph player has a vivid red morning glory horn. It has an estimate range of $3,300-$6,600. An extremely rare and early polyphon music box is in absolutely mint condition and ready to entertain. Its estimate is $3,300-$6,600.
Other treasures featured in the auction include gold coins, high-end jewelry, appraised gems, framed art, prints, bronzes and prime land parcels.
The auction will commence at 7:30 a.m. Pacific Time - 10:30 a.m. Eastern Time on Sunday, March 25. For additional information on any lot in the sale, call Debbie on 661-823-1543 or e-mail info(at)governmentauction(dot)com.
To view this auction please click the link below
Historic Auction Government Assets Sale- Sunday, March 25, 7:30 AM PST
http://www.liveauctioneers.com/catalog/28712_historic-auction-government-assets-sale/page1
About Government Auction
Government Auction was founded as a general resource to buying assets such as jewelry , gemstones, memorabilia, collectibles, art, prints, antiques, and vehicles throughout the United States. Most people don't realize there are hundreds of thousands of assets and valuables that are seized everyday and made available through various resources. Many of these confiscated assets are passed on to us for immediate liquidation. Some examples of how we acquire requisitioned objects are from bankruptcies, IRS, estate sales, trusts, and more.
Government Auction is the largest company of its kind and the only one in the United States that works closely with these agencies to acquire literally thousands of assets and confiscated goods, such as Ruby Gemstones, Sapphire Rings, and Men's President Rolex Watches, Mercedes Benz, and Gold Coins. In most cases we acquire these treasures at a fraction of their actual retail value. Once acquired these items are liquidated through our auction site. Our clients are made up of just your everyday person who wants to buy a Diamond Bracelet, Pearl Strand Necklace, Sterling Silver Pink Sapphire Earrings, Oval Cut Emerald Gemstone Parcel, Remington Bronze Reissue at an unbeatable price.
All assets that we offer are normally at a 30% - 60% savings to you. What this means is you are making a good investment immediately. By purchasing assets cheaply you can make a sizeable profit if you decide to resell it later on.
You are buying from the most reputable jewelry and gem clearinghouse company in the U.S., with over 20 years of experience.
Contact Info:
Chris Budge
Marketing Representative
Government Auction
Phone: 661-823-1543
###