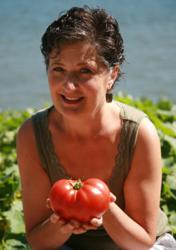 "Growing tasty and healthy vegetables starts with healthy soil. Bokashi composting makes that possible without the need of harmful chemicals and artificial fertilizers"
Columbia City, OR (PRWEB) March 28, 2012
Bokashi Life launches their company with a solution to food waste. Is it possible that food waste is the most vauable commodity discarded each day? Bokashi Life thinks so.
What happens with food waste, those fruit and veggie skins, banana peelings, egg shells, coffee grounds and expired leftovers? According to the EPA, over 33 million tons of food waste ends up in landfill annually, making it a significant source of greenhouse gassing.
Many municipalities no longer allow food waste to be mixed with household garbage. Some are trying curbside collecting, but these programs have proven to be repugnant with many. There exists a yuck factor in handling the food recycle bucket and the smell can be overwhelming. Imagine keeping a food waste bucket on the patio during a hot summer day while enjoying a family barbeque.
Bokashi Life is promoting a solution with the Japanese word Bokashi, translated as "fermented, organic matter." Bokashi composting makes it possible to compost all food scraps, including typical no-no items such as meat, fish and dairy through an anaerobic method of fermentation using Effective Microorganisms® so there is no foul smell. Bokashi Composting has become widely popular throughout Asia, Australia, New Zealand and many European countries.
What makes it so popular? It's fast, efficient and emits no foul odors. But most of all, when buried, Bokashi compost infuses the soil with millions of beneficial microbes along with the rich nutrients the food waste provides that are not possible with sterile commercial fertilizers. There is zero loss of energy in the form of methane, carbon or nitrogen as with conventional composting. All the energy is retained in the soil. The special Bokashi bucket also has a drain spigot for draining off nutrient rich compost tea that is an excellent plant food.
Glen and Trudy Pritchard of Columbia City, Oregon made the decision to grow as much of their own food as they can and do so organically without harmful chemicals and artificial fertilizers. "We estimate that we provide our garden with 80 pounds of nutrients a month from our small kitchen. That amounted to almost 1000 pounds last year," said Pritchard. They have noticed that plants grown with Bokashi composting are healthier and less prone to disease and insects. "Growing tasty and healthy vegetables starts with healthy soil and Bokashi makes that possible."
Many they have shared with have expressed interest in trying Bokashi. The Pritchards now announce the launch of their company, Bokashi Life. The company supplies through its website bokashilife.com the Bokashi Kitchen Composter and other probiotic products. They also share on their blog Bokashi Living, tips on natural living and gardening with Bokashi Composting. Bokashi seems to be one good answer to many problems.
Bokashi Life of Bokashi Industries, LLC is a manufacturer of Bokashi and promotes Bokashi composting, Effective Microorganism Technology® and its applications to revitalize soils without the need for harmful chemicals and artificial fertilizers, minimizing impacts to both environment and health.