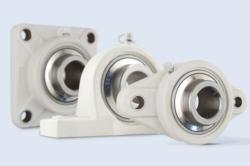 Boynton Beach, FL (PRWEB) March 22, 2012
Boca Bearings is pleased to announce the release of their new and expanded Mounted Unit Bearing series. The new series will incorporate both thermoplastic housings as well as mini mounted units with low profile housings. Mounted unit bearings are used when a shaft axis is perpendicular to the bearing mounting surface. Available in 2 or 4-hole configurations, flange mounted unit bearings and pillow blocks provide a method of accurate mounting fits and load support.
Thermoplastic Mounted Unit Bearings consists of a high-grade, thermoplastic housing with a stainless steel insert. Full ceramic or ceramic hybrid insert bearings can be substituted upon request from a 0.5000 inch bore to a 1.5000 inch bore in both Metric and Inch. Thermoplastic housings will never rust or corrode and characteristically exhibit excellent stiffness, mechanical strength and dimensional stability. Thermoplastic is ideally suited for applications that require frequent wash downs, operate near food or liquid contaminants and have a high exposure to harsh chemicals or humidity. Pillow Block, Two Bolt Flange and Four Bolt Flange styles are available now. Thermoplastic is capable of handling operating temperatures from -35° C to 102° C.
Mini Mounted Unit Bearings have a rustproof housing made with a special alloy or stainless steel 304 with bearings made from high carbon chromium bearing steel or stainless steel 440C. Low profile mini mounted units are ideally suited for tight spaces and characteristically exhibit excellent stiffness, mechanical strength and dimensional stability. Pillow Block and Two Bolt Flange styles are available now. Selection of the appropriate bearing can be accomplished with knowledge of the shaft size and radial and thrust load requirements. Metric shaft sizes of 10, 12, 15, 17, 20, 25, 30 and 35 mm.
The Boca Bearing Company is one of the most trusted names in standard and ceramic bearings with the Lightning Bearing Technology (LBT) line. The reduction of rolling resistance and conservation of energy has been our hallmark since 1987. Boca Bearings never has a minimum order and is a one stop shop for everything from prototyping to production. Whether you are looking for affordability, longevity or high speed, Boca Bearings has just the bearing for you. Wholesale discounts are available upon request.