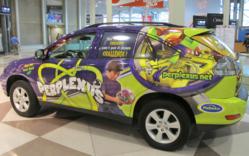 The two students selected as Perplexus Tour Ambassadors by PlaSmart Inc. will travel in the Perplexus Lexus to major U.S.A. cities.
Ottawa, ON (PRWEB) March 22, 2012
Two adventurous, toy-and-game-loving, social-media-savvy students will be hired this May to drive a Perplexus Lexus throughout the USA as Brand Ambassadors, representing the Perplexus brand professionally in retail outlets and at other venues. The successful candidates will showcase the Superplexus (a giant version of the Perplexus 3D puzzle), conduct Perplexus game challenges, shoot videos, take pictures, interview Perplexus lovers, and engage fans and followers on Facebook, Twitter, and through a specially designed blog.
The selection process, fully described on http://www.perplexustour.com, requires students to apply in pairs and includes a YouTube video contest to give the public a chance to vote for the best team. Applications must be submitted by Sunday, April 15th to http://www.perplexustour.com, and public online voting will take place between Friday, April 20th and Tuesday, May 1st. Winners will be announced on Wednesday, May 9th.
"Perplexus fans around the world have posted videos of themselves online solving the Perplexus challenges," said Timothy Kimber, President and CEO of PlaSmart. "It's only fair then, that they also have the opportunity to have their say for who will land the best summer job ever as Perplexus Ambassadors, travelling across the country, playing with toys, while building impressive portfolios that will help fulfill their future career goals."
About PlaSmart Inc.
PlaSmart is a global toy distributor specializing in providing smart, simple, and fun products that bring families together. PlaSmart's products include Perplexus (Original, Rookie and Epic), the world's first 3D marble maze game; PlasmaBike, a two-wheeled, no-pedal balance bike (new for 2011); and PlasmaCar, the mechanical marvel powered by the cleanest and most inexhaustible energy source - kid power. Plasmart's products are available on five continents and in more than 20 countries.
For more information visit http://www.plasmarttoys.com