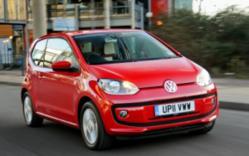 London, UK (PRWEB UK) 22 March 2012
Rory Lumsdon is VW UK product manager and said, "We have never really had a car like the Up!, which packs a lot of technology and features into a city car size, and I believe with the trend towards downsizing for economy and tax reasons that the Up will appeal to more buyers than our previous small cars like Lupo and Fox."
Officially, VW say they anticipate about 10pc of all Up sales which begin with the three door now and will gain the five door in September, to go to business car buyers and principally daily rental companies, but Mr Lumsdon says he thinks it will be a higher percentage. "I think it will be at least 10pc," he added.
One key option which could influence the take up by SME fleets is the introduction of the city emergency brake, a sensor and camera operated system which works in conjunction with the car's ABS and ESP to read the road up to ten metres ahead and activate the brakes if the driver is four metres from a hazard and not acting to avoid an accident by steering, braking or depressing the clutch.
It is intended to prevent the typical nose to tail tap in slow moving traffic up to 19mph but which can cost several hundreds of pounds to repair.
It costs a little over £200 fitted but models with the system drop into the lowest 1E insurance category, making the basic model the cheapest to insure in the city car sector. This lower insurance cost, reduced accident risk and improved residual value are powerful attractions to small businesses and private buyers alike.
The Up! range runs from about £8,000 to £11,200 and is based on the latest three-cylinder 1.0 engines with 60 or 75PS outputs, emitting as little as 96gkm, and only five-speed transmission will initially be available but a automated manual will appear at the end of this year. VW says a plug-in electric version is coming in about 18 months. A GTi concept with manual six-speed gearbox has also been shown.
At launch there will be the TakeUp!, MoveUp! and HighUp! with the mid-model accounting for about 60pc of sales and the others 20pc each, but there will also be UK special edition UpBlack and UpWhite with enhanced trim and chrome-effect detailing.
Apart from the city emergency braking system another option available is a highly sophisticated 'Maps & More' mobile Personal Infotainment Device which clips above the central console and can be used to organise navigation, telephone, information and entertainment. Lastly with the options, a spare wheel is an extra cost for UK market.
At 3,540 mm in length, 1,641 mm in width and 1,489 mm in height, the Up! is one of the smallest four-seater cars available. Its overall length consists of short body overhangs and a long wheelbase of 2,420 mm. Boot space rises from 251 litres to 951 litres when the two back seats are folded down.
First driving impressions of the VW Up!:
Up! will not let you down with disappointment.
For its size it is a surprisingly roomy business car and despite the lack of two rear doors for now, it gives reasonable access into the two rear seats as well. Boot space is ok for shopping but you would have to drop the back seats to take most other items.
At the other end, the 60PS engine is expected to be the more popular and it does a good job of keeping up with traffic if you travel alone and without much weight but press it to perform and the engine lets you know how hard its working and it can run out of breath on long or steep ascents.
I also thought the entry level TakeUp with 60PS engine and thinner wheels and tyres tended to skip around more over bumpy bends and surfaces than the MoveUp and HighUp tested, and the latter and special edition UpBlack definitely went better with the 75PS engine pulling them along.
Having said that, both 60 and 75PS modelstested were comfortable with good seats and excellent visibility, a good turning circle and smart appearance both inside and out.
For business drivers wanting to keep an eye on their http://www.busi nesscarmanager.co.uk/category/tax/company-car-tax/ [company car tax __title__ ] allowance the new Up! will help them keep tax levels down, when company car tax rates are going…well, up!
Sources:
Business to Business Post: http://www.businesstobusinesspost.com
Business Car Manager: http://www.businesscarmanager.co.uk