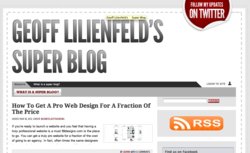 My intention is to be open and share as much business advice and process as possible
Kansas City, MO (PRWEB) March 22, 2012
In the current business market intellectual property rules the minds of the largest corporations. Companies such as Apple, Google, Facebook, and Yahoo! are constantly in the news for lawsuits over intellectual property. Keeping business processes and think tanks behind closed doors is integral to the Fortune 500 strategy. Geoff Lilienfeld isn't part of a Fortune 500 company and he prides himself on showing it.
Lilienfeld is a Kansas City based entrepreneur who has started multiple businesses everywhere from helping consumers sell iPhones via the mail to sending their friends happy birthday Facebook messages with his free happy birthday Facebook app known as birthdayFB. Recently Lilienfeld has added a new business to his portfolio, what he refers to as his "Super Blog." "My intention is to be open and share as much business advice and process as I can" Lilienfeld states on his blog. Thus far he's living up to his promise.
One of his blog posts outlines how he created the app for sending automatic Facebook birthday wall posts including how much it cost to develop it and how he found the developers. He also gives detailed instructions on how he found and hired the Wordpress developer that helped code the blog itself. The unique thing about Lilienfeld's blog is that it is truly a step-by-step guide that just about anyone could follow on how to start a web-based business.
In addition to discussing business conquests and tips for imitating, such as how he gets designs for iPhonesIntoCash.com (his business which purchases used and broken iPhones), he also shares humorous stories of cab drivers and other worldly adventures. Geoff Lilienfeld's Super Blog is no doubt a business blog but has a great twist of humor. "I know it seems a little odd that I'm giving away my secret sauce but not only do I enjoy it but in the end I think it'll be fun, educational, and my most profitable endeavor yet."
What are some other blog topics to come? We asked. "I've spent a tremendous amount of money advertising businesses over the last couple years which gives me a unique knowledge base" states Lilienfeld. He says you can expect to read articles on Google Adwords, Facebook advertising, e-mail campaigns, social media, display advertising, and many other forms of both online and offline marketing. Lilienfeld hopes to average at least three blog posts per week but thinks this will increase over time. As of now Lilienfeld does very little to monetize the blog as he's more interested in gaining readership. This is a strategy very similar to that which he used for birthdayFB.
Geoff Lilienfeld's Super Blog was created by Geoff Lilienfeld, the President and Founder of iPhonesIntoCash.com as well as birthdayFB. iPhonesIntoCash.com is a site that allows users to sell iPhones including their used and broken iPhones. birthdayFB is a free Facebook app that allows users to pre schedule happy birthday wall posts.