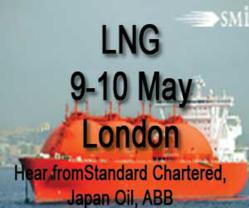 London, UK (PRWEB UK) 23 March 2012
SMi's LNG 2012 conference May 9th – 10th 2012, London provides a comprehensive overview and strategic insight into current micro and macro dynamics influencing the current LNG market. Key industry professionals will come together for a two day interactive discussion on current market developments, from the unconventional boom in North America and its effect on the industry, the growing demand for LNG in Asia post Fukushima, and the viability of the Australian LNG market as a game-changer.
http://www.smi-online.co.uk/2012lng54.asp

Cheniere Energy has urged federal regulators to approve construction of its proposed liquefied natural gas export terminal by next week to prevent any project delays.
Cheniere said it needs authorization from the Federal Energy Regulatory Commission for the planned Sabine Pass terminal in Louisiana no later than Thursday, March 15, or the project could face "significant price increases."
Such a rise in expenses "may result in delays in the construction of the liquefaction project," the Houston-based company said in a letter to commission chairman Jon Wellinghoff.
Last year, Cheniere's Sabine Pass terminal was the first project in more than 40 years to get permission from the U.S. Energy Department to export natural gas to major importing countries.
At the time, Cheniere chief executive Charif Souki said the FERC approval, which was needed to begin construction, was procedural and the company did not expect any problems with it.
While it was once thought that the United States would need to import LNG to meet is energy demands, advances in drilling techniques have led to a glut of shale gas output in recent years.
In addition to Cheniere, companies such as Southern, BG, Dominion and Sempra are also seeking government approval to export natural gas.
Find out about Cheniere at LNG as SMi's 14th annual conference on LNG the 9th – 10th May in London. This conference will focus on the key industry drivers that have arisen over the last year and examine LNG's place in the future energy market.
Speakers include:
Ramzi Mroueh, Vice President, Origination, Cheniere Energy
Francisco De la Flor Garcia, Director of Regulation, Enagas
Guy Broggi, Senior Advisor, LNG Division, Total
Shigeki Sakamoto, Senior Researcher Asia Pacific, and Global LNG, Japan Oil Gas and Metals National Corporation
Ravi Suri, Managing Director and Head, Europe, Middle East, Africa and South Asia, Project Finance, Standard Chartered Bank
TO RESERVE YOUR PLACE
Contact Teri Arri for more information or to secure your place
Tel: +44 (0) 20 7827 6162or email: tarri(at)smi-online.co.uk
Group booking discounts also available!
Promotional Opportunities
SMi Group offers excellent opportunities to profile your company through tailored sponsorship and branding packages.
For details contact Jules Omura on Tel +44 (0) 20 7827 6018 or email:
jomura(at)smi-online.co.uk
SPONSORED BY:
ABB