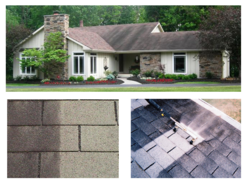 The Masse Group is a local contractor with experience working on roof tops and they do an outstanding job to eliminate these stains
Bridgewater, MA (PRWEB) March 23, 2012
Roof ReviverTM roof cleaner is being used on dirty, streaked roofs across the country this season. In Boston, The South Shore, Cape Cod and the Metro West, the Masse Group is using this environmentally safe and biodegradable cleaner to safely and effectively clean roofs affected by algae, moss and lichens.
Mica Moeller, owner of Moeller Services, LLC, the maker of the environmentally-friendly roof cleaning product, said she is honored and excited by the recognition of the Masse Group who uses the product exclusively.
"Our expansive network of contractors uses this environmentally-friendly cleaning solution to make it possible for thousands of people to save money. They don't have to replace their roofs to rid themselves of black streaks. Instead, they can clean them; they revive them," Moeller said. "The Masse Group is a local contractor with experience working on roof tops and they do an outstanding job to eliminate these stains."
Roof ReviverTM Roof Cleaner uses an innovative two-step process to clean shingles, tiles and other roof surfaces affected by algae, moss and black streaks. Moeller Services developed the product after discovering that other roof cleaners use high concentration bleach, lye and other chemicals that can damage landscaping and surfaces of the home.
"We discovered Roof Reviver and have been thrilled by the results," said Dan Masse owner of the Masse Group. "Our customers couldn't be happier to see their roof tops clean again. We get a lot of repeat customers, and many people schedule yearly maintenance with us to prevent the stains from coming back."
Roof ReviverTM roof cleaner is a product of Moeller Services, LLC, headquartered in Cincinnati, Ohio. The easy two-step process cleans roof surfaces, including shingles and tiles, after they've been stained or affected by moss, algae and black streaks. The environmentally-friendly formula makes removing unsightly and embarrassing roof stains safe and cost-effective. For more information, visit http://www.roofreviver.com or http://www.massegroup.com
###