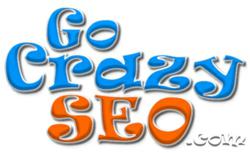 Phoenix, AZ (PRWEB) March 27, 2012
As the Internet becomes more popular in the United States, it has become a great medium for medical practices to gain patients. One company that is achieving tremendous success with medical internet marketing is Go Crazy SEO, located in Phoenix, AZ. Their last five medical practice clients have achieved first page Google rankings for competitive keywords within two months.
Go Crazy SEO was founded by a medical doctor who is an expert in medical practice SEO. The doctor, David Greene, MD found that by optimizing his website properly and performing proper Internet marketing, he was able to generate over 65% of new patients from the Internet.
Said Dr. Greene, "Over the last few years, I have learned the proper and ethical techniques to gain 1st page search engine rankings which increases website traffic and makes the phone ring. In addition to this, through trial and error I have discovered ways to make the best medical websites so that search engines love them and patients call more often."
Medical websites and internet marketing needs to be approached differently than regular service industry sites. Why? The reason is prospective patients not only want to read about the practice, but also the providers, and receive education at the same time.
"A traditional sales type approach for a medical practices Internet marketing is a terrible idea," says Greene. "Our approach focuses on quality content for our medical websites and Internet marketing campaigns along with a tremendous focus on education. Prospective patients want to know that there are provider is credible and not focusing on gimmicks. Education is the key to this credibility, and our content team at Go Crazy SEO focuses on producing SEO friendly, quality content to make that happen."
The last five medical practices who have signed up with Go Crazy SEO have achieved first page search engine rankings (Google, Yahoo, and Bing) for competitive keywords all within two months of going live with their internet marketing campaigns.
Dr. Greene has implemented campaigns for clients including regular press releases, blog postings, social media campaigns, You Tube channels, email marketing and e-commerce solutions. His articles and videos have been viewed over 100,000 times in the past year alone.
Go Crazy SEO is a Phoenix based internet marketing company focusing on medical internet marketing and websites including general and specialty medicine such as pain management, chiropractic internet marketing, orthopedic, dental, ENT, primary care, GI, cardiovascular, and much more.
Call (602) 677-8981 for more information. Free consultations and special offers are always available for new clients.