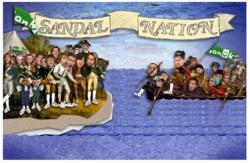 "Sandals are a large part of our spring and summer's sales," Cali Roberts, part-time female ripper states. "We have so many killer colorways of Sanuks, I have to have 1 of each."
Annapolis Maryland (PRWEB) March 22, 2012
Pure Board Shop is gearing up for spring and summer and not a moment to soon.
The month of March looks to be a warm weather record and spring breaks are all within reach.
One of the hottest brands of sandals is Sanuk, and Pure has been representing this line since it's beginnings.
Pure concentrates on both hard and soft goods and as square footage dictates, most of the clothing and accessories is mens. Skate and snow product includes womens stuff but when it comes to sandals, women rule.
Sanuk makes great sandals, both casual conservative and wildly funky.
Sanuk's website describes the vibe.
"Founded by Southern California native Jeff Kelley, Sanuk provides creatively inspired yet distinctively designed footwear products for the global outdoor community. Taking its name from the Thai word for fun, Sanuk strives to make innovative products that are as much about funk as they are about function.
Sanuk products have been twice recognized at the SIMA Image Awards as the 2007 and 2010 Footwear Product of the Year. The brand is best known for its Sidewalk Surfers, often referred to as "Not-A-Shoes", for their patented sandal construction which allows your feet to bend and flex in natural comfort. Sanuk also leads its industry by using innovative materials in its footwear such as yoga mat and indoor-outdoor carpet.
Sanuk continues to sponsor a spectrum of premier athletes, including surfers like Donavon Frankenreiter and Dave Rastovich and rock climbers like Chris Sharma and Daniel Woods. Smile...Pass It On!"
One of the hottest items from Sanuk are the Beer Cozy for men and the Yoga Mat for gals.
Maximum ahhh factor.
About Pure Board Shop:
Opened in 2005 after Evolve Board Shop's co-owner's sold in 2003.
Pure keeps its mix clean, including Nike SB, Adidas Skateboarding, HUF, Vans, Diamond, The Hundreds, LRG, RVCA and plenty of high quality private label tops, bottoms and accessories.
Always hearing the local community, Pure hosts plenty of skate jams and BBQ parties with help from their vendors.
Skateboards, snowboards, longboards, shoes, clothing and accessories rounds out the store and the websites product assortment.