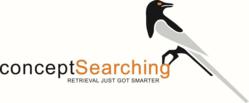 Paul Billingham, Sales Director, Europe at Concept Searching Limited will speak on 'Mitigating Risk: The Importance of Information Governance – Real Life Stories'
McLean, VA and Stevenage, UK (PRWEB) March 22, 2012
Concept Searching, a global leader in semantic metadata generation, auto-classification, and taxonomy management software, and developer of the Smart Content Framework™, will be a Gold Sponsor, exhibit at Booth 16, and also present at the International SharePoint Conference, at the QEII Conference Centre in London, April 23-25, 2012.
Paul Billingham, Sales Director, Europe at Concept Searching Limited will speak on 'Mitigating Risk: The Importance of Information Governance – Real Life Stories'. This session will explore how both commercial and government clients have used the Smart Content Framework™ and its various building blocks to drive policy, process and control in SharePoint, to address issues such as improving transparency and insight, eliminating sensitive information breaches, and the preservation and protection of information in accordance with Records Management guidelines.
For the fourth consecutive year, Combined Knowledge will host The International SharePoint Conference, to be held at the QEII conference Centre in Westminster, London. It will be a 'SharePoint Conference with a difference' and will contain 'never been done before' solution based sessions for IT Pros and Developers. This year will see the addition of a New Business Track with real world boardroom and design scenarios, and also three Information Worker Tracks designed for End Users, making this a conference that is relevant to the whole of the business.
Places are limited: For more information or if you would like to register, please visit the dedicated conference website at http://www.internationalsharepointconference.com
Follow Concept Searching: http://www.twitter.com/conceptsearch
About Concept Searching
Founded in 2002, Concept Searching provides software products that deliver conceptual metadata generation, auto-classification, and powerful taxonomy management from the desktop to the enterprise. Concept Searching, developer of the Smart Content Framework™, provides organizations with a method to mitigate risk, automate processes, manage information, protect privacy, and address compliance issues. This information governance framework utilizes a set of technologies that encompasses the entire portfolio of information assets, resulting in increased organizational performance and agility.
Concept Searching is the only platform independent statistical metadata generation and classification software company in the world that uses concept extraction and compound term processing to significantly improve access to unstructured information. The Concept Searching Microsoft suite of technologies runs natively in SharePoint 2010, FAST, Windows Server 2008 R2 FCI, and in Microsoft Office applications.
Headquartered in the US with offices in the UK, South Africa and Canada, Concept Searching solves the problem of finding, organizing, and managing information capital far beyond search and retrieval. The technologies are being used to drive intelligent migration, enable effective records management, identify and lock down sensitive information and enhance governance. For more information about Concept Searching's solutions and technologies please visit http://www.conceptsearching.com
About Combined Knowledge
Combined Knowledge has been specializing in the development and delivery of SharePoint Training, Education and Adoption since 2003. Its key aim in developing its business was to not only offer training classes, but also to provide organizations with a solution for their SharePoint deployment, from the product installation through to development, customization and then ensuring successful user adoption. To learn more, please visit http://www.combined-knowledge.com
All product and company names herein may be trademarks of their respective owners.