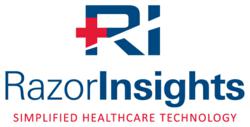 Kennesaw, Georgia (PRWEB) March 22, 2012
Reed Liggin, R.Ph, MBA, president of RazorInsights, was recently interviewed by industry publication DOTmed Business News regarding his take on electronic health records adoption and why many clinicians fear "going paperless."
"When choosing an EHR solution, customers are looking for something that is going to be easy to use, that doesn't slow staff down too much, and that's going to deliver a degree of clinical sophistication to make sure they improve patient care," said Liggin.
RazorInsights' clients are finding a fast-track route to electronic health records adoption with its ONE HIS Solution. ONE provides a simple-user interface and single-database delivery system. Its intuitive design allows administrators and clinicians with limited technical skills the ability to quickly transition.
Additionally, its innovative use of cloud technology renders seamless upgrades and a secure, HIPPA compliant connection that can be accessed from nearly any device. DOTmed highlighted these advantages in sharing of how a recent tornado damaged an Alabama medical center. With the destruction leaving the building temporarily abandoned, the facility's administrator was able to grab a laptop and quickly access all patients' medical data and billing information.
About DOTmed Business News:
DOTmed Business News is the source for medical professionals looking to improve the health of their bottom line. It is sent monthly to over 31,000 influential medical executives. The publication is a supplement to DOTmed.com, which is a leading marketer of medical equipment and the leader in online medical equipment auctions. With more than 250,000 listings and 170,000 registered users, DOTmed is revolutionizing the medical equipment marketplace through innovation, access, and programs that serve buyers and sellers alike. For more information, visit dotmed.com or download the DOTmed Business News iPad App on Apple's App Store.
About RazorInsights:
Based in Kennesaw, Georgia (in the metro Atlanta area), RazorInsights is a dynamic healthcare information technology company. In keeping with the principle of Occams Razor, they have created a simplified HIS solution for Rural and Critical Access hospitals. Introducing ONE (ONC-ATCB 2011/2012) -- a single-database, cloud solution offering a simple user experience with cutting-edge clinical tools and industry-standardized data. Hospitals can expect to improve their performance and bottom line with ONE from RazorInsights. To register for a live product demo or for more information, visit razorinsights.com or call 770-308-4111.