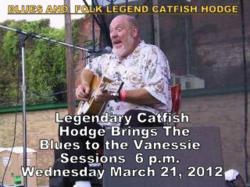 (PRWEB) March 21, 2012
Presented by Hutton Broadcasting and SantaFe.com at Vanessie Santa Fe, The Vanessie Sessions is a bi-monthly showcase of New Mexico songwriters, bands and musicians. Listeners can engage with the concert in one of three ways: in person at Vanessie Santa Fe, streaming live on SantaFe.com, and on the radio airwaves at 98.1 FM KBAC, Radio Free Santa Fe. Wednesday night's show with Catfish Hodge airs live from 6 to 7 p.m. Hailed as an "American folk blues hero," Catfish Hodge has been a mainstay on the American blues music scene for more than thirty years. He has 24 albums under his belt, made up mostly of original material.
Catfish found his calling early on. While growing up in Detroit, he found himself sneaking into Motown Records' Hitsville studio to catch the Four Tops and The Supremes and grooving in nighttime venues to the sounds of R&B and blues, while many of his contemporaries gravitated to the Beatles. In the late '60s, he formed the Catfish Band and led them out of Detroit into national prominence. In the early '70s, Catfish moved to Washington D.C, where he continued to deliver the goods in such famed clubs as Desperado's, Childe Harold and the Cellar Door. In 1981, Hodge put together the Chicken Legs band, which included Paul Barrere, Richie Hayward, Kenny Gradney and Sam Clayton -- all hailing from Little Feat fame. In 1982, Catfish headed west to California where he lived for the next 17 years. Along with Paul Barrere, he formed the Bluesbusters in 1984. They recorded two albums for Landslide Records and toured for many years, until Little Feat was reformed in the late 1980s. In 1999, Catfish founded the Hillbilly Funk Allstars with T Lavitz, Richie Hayward, Kenny Gradney, and Vassar Clements. Hodge continues to perform solo acoustic guitar and sing and is working with a new electric band in the mid-Atlantic area. He continues to create buzz in musical festivals around the globe. Catfish Hodge recently moved to Santa Fe.
Below is a chronology of some of Hodge's musical highlights:

"Catfish Blues" and "Like A Big Dog Barkin'" were released on the Wildcat label in 1994.
"Eyewitness Blues" was released on Genes CD in 1995.
His first album of children's songs "Adventures at Catfish Pond", on Music for Little People label was released in May of 1996. The album won the NAPA Golden Award as best children's music of 1996.
1998 release "Bare Necessities"(on Chicken Legs Music) finds him in a solo acoustic setting, with lowdown funky blues and soulful ballads
1998 release "Bare Necessities"(on Chicken Legs Music) finds him in a solo acoustic setting, with lowdown funky blues and soulful ballads.
His 1999 release "Twenty Years" features performances from concerts and radio broadcasts. It includes the only version now available of "Boogie Man Gonna Git Ya", as well as other rare gems.
His 2002 release "Let's Eat" is a best of collection of his best know food songs of which there are many.
Both of his latest albums before the 1990's are difficult to find except for the first Catfish Band album "Get Down", which was re-released by Sony/Epic records back in the mid 1990's.
About Vanessie Santa Fe:
Vanessie Santa Fe offers locals and visitors to Santa Fe a Piano bar that seats 150+ offering hosting for cocktail receptions, parties, plus nightly entertainment, a dining area that seats 100 guests offering hosting for private parties, wedding receptions, rehearsal dinners, business dinners, and regular dining, and finally, a lodge with 20 rooms, offering both traditional Santa Fe style rooms and contemporary style rooms with first class amenities and comfort. Vanessie Santa Fe is owned by native Oklahoma Dentist and entrepreneur Dr. Ron Bulard and it is located at 427 W. Water St., Santa Fe, New Mexico.
Contact Information:
Hideko Amasaki - General Manager
Vanessie Santa Fe
http://www.vanessiesantafe.com
(505) 982-9966 (Media Inquiries only, please)
About SantaFe.com
SantaFe.com provides Santa Fe and visitors to Santa Fe alike the most current interactive platform for events, music, arts, business, dining, and lifestyle. SantaFe.com is a division of Hutton Broadcasting. Hutton Broadcasting is located at 2502 C. Camino Entrada, Santa Fe, NM 87507
Contact Information:
Scott Hutton
SantaFe.com / Hutton Broadcasting
http://www.santafe.com