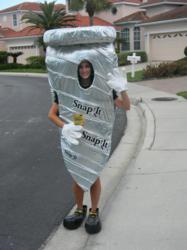 East Wenatchee, WA (PRWEB) March 22, 2012
Thinking outside of the box turned Nancy Tedeschi into an inventor with a revolutionary product –Snapit Screw. These days, she is using the same approach to attract support for Snapit in the "Get on the Shelf" contest sponsored by Walmart.
Tedeschi has come with a variation of "she has a screw loose" by letting her screw loose – actually assistant Alex Benshoff in costume – on the streets of New York City.
Get on the Shelf is an American Idol-like competition in which the public can vote for its favorite performer. Votes may be cast daily by text or Facebook through April 3 in the first round of the competition. The top 10 finishers move into a second round.
The prize – an opportunity to sell Snapit through America's biggest retailer – has sent Tedeschi back outside the box in search of clever and creative promotional ideas. She had a screw costume designed and built and handed Benshoff the assignment.
An odd set of events turned Tedeschi into the inventor with a simple but brilliant idea. The starting point came when her mother broke her eyeglasses while overseas and couldn't find a place to fix them. Desperate to repair the glasses, her mother came up with a temporary fix by sliding one of her dangling earrings through the hinge in her eyeglasses.
Tedeschi's mom wore the "bead" through her hinge for about a year and was stopped by several people trying to find where out where they could purchase one of these unique items. She told her daughter, "you have to invent charms for glasses." Tedeschi went to work on the project, but was frustrated dealing with the tiny eyeglass screws. She put work on the eyeglasses beads on hold, had a life-changing aha moment and developed an easy-to-use screw.
Snapit Screw has been patented in the U.S. and several foreign counties. More international applications are pending. Tedeschi is already selling her screws to opticians all over the world and is working on expanding sales in the consumer market. Getting Snapit into Walmart would be a huge step forward, so Tedeschi is letting her screw loose in New York.
More information about Tedeschi's SnapIt Screw can be found at http://www.snapitscrew.com
There are two ways to vote for SnapIt Screw in the Get on the Shelf contest: text the number 656 to 383838 or through Facebook at http://getontheshelf.com/product/656/Snapit-Eyeglass-Repair-K
Contact: Nancy Tedeschi at 518-487-1550 or snapitscrew(at)gmail(dot)com.