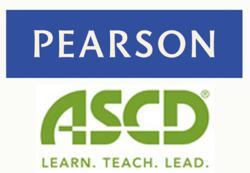 Philadelphia, PA (PRWEB) March 25, 2012
Today at the association's 67th Annual Conference and Exhibit Show, ASCD, the global provider of programs, products, and services that empower educators to support the success of each learner, and Pearson, the world's leading learning company, debuted the new online, comprehensive leadership program Principal Compass™.
Created in collaboration with the Marzano Research Laboratory and Dr. Robert Marzano, Principal Compass is a cloud-based program that helps increase leadership effectiveness for K–12 principals and their teams. Using software technology developed at Johns Hopkins University, Principal Compass is the only integrated and scalable online professional development tool aligned with Dr. Robert Marzano's framework for principal growth and development. The evidence-based rubric focuses on five domains of competency:
1. data-driven focus on student achievement
2. continual improvement of instruction
3. guaranteed and viable curriculum
4. cooperation and collaboration
5. school climate
The program offers targeted professional development, including self-paced online modules, on-site coaching and team professional development, access to more than 3,000 classroom and practitioner videos, self-assessment data that is benchmarked against competencies for effective school leadership, progress monitoring, and recommendations for additional resources. Renowned authors and education experts Jon Saphier, Rick Stiggins, and Lyle Kirtman also contributed to Principal Compass.
Dr. Marzano said, "We know that in order to deliver sustained student achievement and schoolwide success, districts must depend upon – and cultivate – highly effective educators. Quality professional development that is individualized and tied to proven strategies for team building and leadership, as seen in Principal Compass, when used well can impact performance and grow student achievement at the school and district level."
The leadership effectiveness system in Principal Compass is fully integrated into the award-winning Teacher Compass Suite platform, where the self-assessment and improvement data will be available in tandem with teacher observation data and online, on-demand professional development resources. For more information, go to http://www.principalcompass.com.
About ASCD
ASCD is the global leader in developing and delivering innovative programs, products, and services that empower educators to support the success of each learner. Comprising 150,000 members—superintendents, principals, teachers, professors, and advocates from more than 145 countries—the ASCD community also includes 58 affiliate organizations. The nonprofit's diverse, nonpartisan membership is its greatest strength, projecting a powerful, unified voice to decision makers around the world. To learn more about how ASCD supports educators as they learn, teach, and lead, visit http://www.ascd.org.
About Pearson
Pearson has as its mission to work side-by-side with states, districts, teachers, students, and parents to ensure that every child is prepared for college and career (NYSE: PSO). To learn more, visit http://www.pearsonschool.com.
Contacts
ASCD: Stephen Wakefield, communications director, stephen.wakefield(at)ascd(dot)org, 1-703-575-5764
Pearson: Kate Miller, VP communications, kate.miller(at)pearson(dot)com, 1-800-745-8489