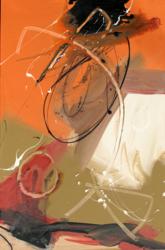 "Abstraction is realism revisited" Charles Huckeba
Scottsdale, AZ (PRWEB) March 22, 2012
"Abstract Art uses a visual language of form, color and line to create a composition which may exist with a degree of independence from visual references in the world. Western art had been, from the Renaissance up to the middle of the 19th century, underpinned by the logic of perspective and an attempt to reproduce an illusion of visible reality. The arts of cultures other than the European had become accessible and showed alternative ways of describing visual experience to the artist."
"Abstraction indicates a departure from reality in depiction of imagery in art. This departure from accurate representation can be only slight, or it can be partial, or it can be complete. Abstraction exists along a continuum. Even art that aims for verisimilitude of the highest degree can be said to be abstract, at least theoretically, since perfect representation is likely to be exceedingly elusive. Artwork, which takes liberties, altering for instance color and form in ways that are conspicuous, can be said to be partially abstract. Total abstraction bears no trace of any reference to anything recognizable." http://en.wikipedia.org/wiki/Abstract_art
"Abstraction is realism revisited." - Charles Huckeba.
Huckeba's work welcomes you as you walk in the front door of the EXPO. He can be found at his easel manipulating fluid around the canvas, a science that has been his passion and driving force since art school. To see more of Charles work visit: http://arizonafineartexpo.com/?p=728
"Being in the moment reflects the essence of my art." - Walter Melnikow.
Melnikow takes a more emotional road with his work led by his feelings, which dictated color size and pattern. That is why the look of my art varies so much — some days, very structured and geometric, and other days, textural and organic.
http://arizonafineartexpo.com/?p=4702
"Painting is the powerful release of my over analytical nature in an intensely expressive manner," Lena Bigelow
The subtle beauty, uniqueness and truly one-of-a-kind aspects of things and people in every day life inspire Lena. http://arizonafineartexpo.com/?p=2249
'When the birds sing – I paint." - Carol Schinkel.
Schinkel's work cannot be defined by any art terminology. Like the seasons, her palette, movement and expression change according to the melody in her art. The paint dances with expression creating it's own song.
To see more of Carol Schinkel's work visit: http://arizonafineartexpo.com/?p=2403
"My work is a backdrop for energy," says Daniel Long.
Long looks at abstract art as a tool to unlock the mind, or the unconscious, to see something through color, line, and form that you would not expect to see in nature. These two forms of creativity, realism, and abstraction are constantly evolving and are constant evolution with the consciousness of society.
http://arizonafineartexpo.com/?p=635
The artist Andrew Hamilton once wrote: "The tip of your brush is the tip of your soul"—and so it is for Pat Stacy.
Pat's work is contemporary, abstract, and contains symbols that communicate her gratitude for universal creative expression. You will find an Entity touched by the light of the Creator in all of her recent work with the light of the Creator coming into the painting sometimes expressed by descending golden squares. Spirals represent the journey to the center of our being, and triple spirals or triskelions may have many meanings.
To see more of Pat Stacy's work visit: http://arizonafineartexpo.com/?p=1922
Like us on Facebook for a chance to have your portrait painted.
Do you have a loved one, a favorite pet or are you longing to have a portrait of yourself hanging over the mantle? If so, then we have a great opportunity for one lucky winner! We are thrilled to offer our fans the opportunity to have their portrait painted by one of our participating artists. Become a fan of the EXPO on Facebook and click on 'Win a portrait'. The winner will be announced on Sunday March 25th 2012.