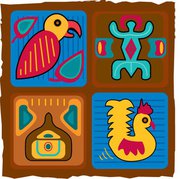 The locals admiration and love for their diverse ecosystem enhances your personal experience
Denver, Co (PRWEB) March 22, 2012
Monica McIntyre is the owner of LatinExplore and has 20 years of experience providing Costa Rica travel vacations. As an expert in the travel industry who has successfully created and sold over 14 organized vacation packages with both Groupon and LivingSocial in the past year. I asked her to share with me the ideal regions for nature enthusiasts to visit that would truly create the trip-of-a-lifetime.
"The Central Pacific hosts the Carara National Park where there are many nature and adventure alternatives. The Manuel Antonio National Park has incredible views with many opportunities to view fauna. Its main advantage is the possibility of combining both nature exploration and the beach into this one beautiful spot" said Monica.
The Carara National Park (inland) is a favorite location for birdwatchers for three reasons. First, since Carara is located in the transition zone both habitats are likely to be present. Second, waters permeating from the Rio Grande de Tarcoles settle in seasonal marshlands that allow for an increase in habitats. And finally because the climate is dryer and not all the trees are of the evergreen variety, it is easier to spot wildlife compared to the rainforests further to the south.
White sand beaches with an evergreen forest that grows up to the high tide line and a variety of wildlife help make the Manuel Anotnio National Park a popular spot. There is a variety of fauna with 109 species of mammals and 184 different species of birds. There are 12 little islands included in the park that lye just off the coast. Dolphins (all year round) and whales (depending on migration) can be observed in their natural habitat.
Monica told me; "Two parks you won't want to miss in the South Pacific are Marino Ballena National Park and the Corcovado National Park. The Marino Ballena provides incredible opportunities to observe marine wildlife. Corcovado is a must for nature lovers."
The Marino Ballena (means whale in Spanish) National Park is the perfect location to view humpback whales that populate this spot from December to April for mating season. The Ballena Island is the center of three small islands called Las Tres Hermanas (three sisters). This is the home to the largest coral reef on the Pacific Coast of Central America. The relatively unpopulated (by humans) beaches are home to Green Marine Iguanas. The Iguanas soak in the sun on the beach until it is time for them to feed on the algae they find on rocks and coral. Between the months of May and November Olive Ridley and Hawksbill turtles can be observed laying their eggs.
Corcovado National Park (coast) is considered a must for nature lovers. National Geographic has called it "the most biologically intense place on Earth". This park is home to the last remaining old growth wet forest on Central America's Pacific Coast. 13 major ecosystems are contained in the park including montane forest, alluvial plains forest, mangrove swamps, highland cloud forest, jolilo forest (palm swamp) and lowland rain forest.
The Central and Southern Pacific region is ideal for people who want to observe a variety of mammals, birds, reptiles, and marine life, coral reefs and forests. There are many beautiful hiking trails and unpopulated beaches where you can find your inner-peace and connect to nature in a unique way. There are few locations in the world that offer such a vast array in ecosystems and animal life.