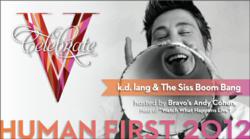 I'm looking forward to celebrating and honoring the work that Center on Halsted is doing for the LGBT community.
Chicago, IL (PRWEB) March 21, 2012
k.d. lang and The Siss Boom Bang will headline the Center on Halsted's fifth annual Human First Gala May 12, 2012 at the Harris Theater, which recognizes community leaders and organizations dedicated to building and strengthening the Lesbian, Gay, Bisexual and Transgender community. Bravo's Andy Cohen will host and MC the festivities and Chicago Cubs Charities, The Chicago Community Trust, and Kraft Foods will receive Community Spirit Awards for their support of LGBT individuals and the unique issues facing this community. Amina Dickerson, Laura Ricketts, Greg Cameron and Richard & Susan Kiphart also will be honored for their support, which has contributed to making Center on Halsted (COH) the nation's premier LGBT community center.
Headlining the evening, k.d. lang and The Siss Boom Bang will perform an incredible evening of music spanning her entire career, including the classic "Constant Craving," and songs from their new album, "Sing it Loud," (Nonesuch). lang, a four-time Grammy-award winning musician, has actively championed gay rights causes for two decades, including HIV/AIDS care and research. lang is considered to be one of the most influential international LGBT artists of her generation.
"I'm looking forward to celebrating and honoring the work that Center on Halsted is doing for the LGBT community," said k.d. lang.
Kicking off the festivities, Bravo's EVP of programming and host of 'Watch What Happens L!ve,' Andy Cohen will welcome the crowd and serve as host for the evening. Cohen is celebrating the recent release of his memoir: Most Talkative: Stories from the Front Lines of Pop Culture. Considered a proactive voice for the LGBT community, Cohen arranged his book tour to be a part of the event.
"I am honored to be a part of such a wonderful event. Center on Halsted provides incredible resources," said Cohen. "I wish more cities would emulate what they are doing. Mazel!"
This year the Center is celebrating its First Five years since opening its doors. Presented by BMO Harris Bank, the Human First gala was created because each individual, regardless of sexual orientation, gender identity and expression, physical ability, ethnicity, or age is – above all – human first. The annual celebration welcomes 1,500 guests and has become the largest LGBT-focused gala in the Midwest. Other supporters include corporate and foundation sponsors of the Center, civic and city leaders, local and national elected officials, major donors, as well as members and allies of the LGBT community. Past headliners include Lily Tomlin, Oleta Adams, Linda Eder, and Wanda Sykes.
"As we continue to foster and provide for the LGBT community, our Human First Gala offers Center on Halsted and our supporters the opportunity to reflect on the past year of service while looking ahead to the future," explained Center on Halsted CEO Modesto Tico Valle. "It is essential that we express our gratitude for leaders who work to reinforce our goal in effecting positive change and who remain steadfast in keeping our mission alive and well."
Tickets for Human First 2012 range from $125 to $500 per person and may be purchased securely online at Harris Theater's Web site or by clicking here.
# # #
About Center on Halsted
In a safe and nurturing environment, Center on Halsted serves as a catalyst for the LGBT community, linking and providing community resources and enriching life experiences. Since opening the doors in June 2007, Center on Halsted has worked to become the most comprehensive LGBT community center in the country through innovative programming, strategic partnerships, and extensive advocacy efforts. With each passing year, its mission and reach continue to grow as the needs of the community increase. To learn more, visit http://www.centeronhalsted.org or call 773-472-6469.