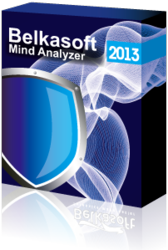 "A hybrid approach to computer forensics opens up a world of possibilities", comments Yuri Gubanov, Belkasoft CEO.
(PRWEB) March 28, 2012
Belkasoft develops a software toolkit, adapting commercially available brain activity analysis hardware for solving criminal cases. The new product, Belkasoft Mind Analyzer, enables the acquisition of human faces by capturing fMRI data generated by human brain cells. A dedicated facial recognition engine allows reliable identification of acquired faces against a pre-filled database, while the optional Identikit module allows building convincing facial composites. The tool runs in conjunction with functional Magnetic Resonance Imaging (fMRI) hardware and makes use of computational models developed by UC Berkeley researchers. Its engine is based in part on neurological researches performed by Japanese scientists.
"Granted, at this time, the quality of images obtained with fMRI scans is rather low", says Nikita Timofeev, Belkasoft CTO and leading software architect. "This is sort of a technological constraint at the moment. Although we've managed to get quite a bit better images than those binary, 10x10 patch results originally available from prior researches, the images acquired from human brain still remain as fuzzy as witnesses' memory. We spent nearly half a year trying to boost resolution of captured images, get wider tonal range than single-bit (black-or-white) patches, and remove as much noise as possible. As a result, our product can reliably extract human faces. It can match, recognize and identify faces located in a pre-filled database, or simply build facial composites with the optional Identikit module."
The engine that runs Belkasoft Mind Analyzer is patent-pending. The US Army and special agencies expressed tremendous interest in Belkasoft's new engine. Belkasoft implements the new algorithm in its new product, Belkasoft Mind Analyzer, and makes it available as a plugin to the company's flagship computer forensics product, Evidence Center 2012.
"A hybrid approach to computer forensics opens up a world of possibilities", comments Yuri Gubanov, Belkasoft CEO. "By analyzing computer data retrieved from suspects' PCs with Belkasoft Evidence Center 2012 and performing fMRI scans of suspects' and witnesses' brain cells to reconstruct visual images, investigators will receive results that are truly amazing. There's nothing that comes close to Belkasoft Mind Analyzer on the market. We're actively developing the product, currently working on recovering sequential series of images to reconstruct visual images of the crime scene."
Prior Art
Belkasoft Mind Analyzer is based heavily on recent scientific researches in medical neurology. In their "Brain imaging reveals the movies in our mind" research, UC Berkeley researchers were able to decode and reconstruct people's dynamic visual experiences by using functional Magnetic Resonance Imaging (fMRI) and computational models. The work is published in the Medical Xpress magazine, a web-based health news service that is part of the renowned PhysOrg.com network, and available at http://medicalxpress.com/news/2011-09-brain-imaging-reveals-movies-mind.html. Computational models developed by Berkeley researchers were a perfect start for developing the Identikit module. The Identikit module, available as a separate add-on to Belkasoft Mind Analyzer, will allow the police build better facial composites based as much on witnesses statements as on actual images reconstructed by applying an fMRI scan to their brain cells.
Yet another work performed by Japanese scientists was used to implement the image extraction engine. "Visual Image Reconstruction from Human Brain Activity using a Combination of Multiscale Local Image Decoders" http://www.cell.com/neuron/abstract/S0896-6273(08)00958-6 implements constraint-free visual image reconstruction, capturing binary-contrast (black-or-white), 10x10 patch images from fMRI scans. The researchers were able to accurately reconstruct images on a single trial or volume basis by measuring brain activity only for several hundred random images. The reconstructed scans were used to successfully identify presented images among millions of candidates.
About Belkasoft Mind Analyzer
Belkasoft Mind Analyzer acquires facial images from fMRI scans, reconstructing visual images from human brain activity. A combination of multi-scale logical image decoders and composite recognition algorithms allows Belkasoft Mind Analyzer to reliably extract images of human faces from suspects' and witnesses' brains. The separately available Identikit module allows building precise facial composites, while the main recognition engine matches images of extracted faces to a pre-filled database, providing reliable identification and recognition of faces captured by human memory.
About Belkasoft Evidence Center
Belkasoft Evidence Center 2012, the company's flagship computer forensic tool, enables security and forensic specialists collect and analyze more digital evidence than ever. Belkasoft Evidence Center 2012 will automatically locate, process and analyze Internet chat logs, Web browsing history and email communications including information stored in Live RAM and system files. Low-level access to hard disk and system structures means that even data that has been deleted by a suspect cannot escape from investigators.
Belkasoft Evidence Center makes evidence analysis easier by natively mounting and access images created with Encase and FTK without using these or any third-party tools.
The affordable Standard edition is available to private investigators and corporate security departments, while the more comprehensive Enterprise edition allows major security agencies and police departments to have multiple investigators work simultaneously on a case.
Pricing and Availability
The release of Belkasoft Mind Analyzer is scheduled to the first week of April. Pricing starts from $19,999. Current customers are eligible for multi-product discount.
Limited Distribution: Belkasoft Mind Analyzer will be available to selected government agencies, including the military, intelligence and police organizations.
About Belkasoft
Founded in 2002, Belkasoft is an independent software vendor specializing in computer forensics and IT security software. Running on the Microsoft Windows platform, Belkasoft products back the company's "Forensics made easier" slogan, offering IT security experts and forensic investigators solutions that work right out of the box, without requiring a steep learning curve or any specific skills to operate.
Belkasoft Evidence Center 2012 consolidates many of the company's individual tools into a single, all-in-one forensic solution. Belkasoft products are used in forensic investigations, law enforcement, intelligence and corporate security applications. Belkasoft customers include the FBI, US Army, US Secret Service, police departments in Germany, Norway, Australia, and New Zealand; PricewaterhouseCoopers, and Ernst & Young.
More information about the company and its products is available at http://belkasoft.com
# # #
Belkasoft Mind Analyzer is only available to select government and law enforcement entities. Contact support(at)belkasoft(dot)com for licensing information. Only one license will be granted per organization/branch.
More information about Belkasoft Mind Analyzer is available at http://forensic.belkasoft.com/en/bec/en/mind_analyzer.asp.