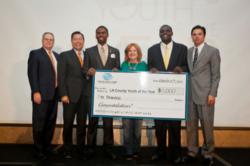 "The young people who earn recognition as Youth of the Year are living proof that Boys & Girls Clubs are effective and contributing to their being model citizens in their community,"
Los Angeles, CA (PRWEB) March 23, 2012
The Boys & Girls Clubs of America – Los Angeles County Alliance named its co-Youths of the Year on March 15, at an event at the California Science Center in Los Angeles. Dennis Ojogho
of Salesian Boys & Girls Clubs and Denzell Perry of the Roy W. Roberts II of Watts/Willowbrook Boys & Girls Club were selected from among 28 area youth to compete to represent the L.A. region in the California Youth of the Year competition in April. They could eventually proceed to the Regional and National Youth of the Year competition.
Nancy Cartwright, the voice of Bart Simpson on FOX's The Simpsons – was the surprise emcee for the event in which youths representing 28 Clubs from across Los Angeles competed for the coveted award. Each youth was previously named Youth of the Year in recognition of his or her Club location based upon their personal and academic accomplishments, as well as their commitment to their Club and their community.
"These young people who earn recognition as Youth of the Year are living proof that Boys & Girls Clubs are effective and contributing to their being model citizens in their community," said David Walker, Executive Director the BGCA-Los Angeles County Alliance. "Indeed, a testimony that "Great Futures Start Here" at Boys & Girls Clubs."
A child of immigrant parents who traveled from Nigeria to the United States in search of a better life, Dennis Ojogho has overcome many challenges. Through the negative and painful experiences of racism at an early age, Dennis learned that life is not about breaking when faced with adversity. A junior at Los Angeles High School, Dennis maintains a 3.96 grade point average and takes an advanced curriculum. He is also involved in the school's Varsity Basketball team and the Black Student Union, and is actively involved in a variety of activities at the Salesian Boys & Girls Club. Last week, Dennis learned that he was accepted to Harvard as he aspires to a career in public service.
A high school senior, Denzell O. Perry is one of four children raised by a hard-working single mother. The Watts/Willowbrook Boys & Girls Clubs filled in for his absent father in a variety of ways, including teaching him how to tie a tie and shave. Despite having a speech impediment that affected him in a number of ways, Denzell is very active in the Club and the community and is focused academically. Upon graduation from high school, he plans to attend college and obtain a law degree, with the ultimate objective of becoming a judge.
Garrett Gin -- senior vice president of global marketing and corporate affairs at Bank of America – and Jim Lactaoen, Market Unit VP at Coca-Cola – representing the "Presenting Sponsors" awarded all Youth of the Year with a $1,000 scholarship, four finalists with $2,500 and both L.A. County Youths of the Year with $5,000 scholarships. The youths also received new laptop computers, a family four-pack to Disneyland and tickets to the LA Kings vs. Boston Bruins game.
In addition to the youth scholarships, Clubs competed for special projects to make greater impact through programs that will (1) assure youth graduate from highs school with a plan for the future; (2) assure kids adopt a healthy lifestyle, and (3) give tools for youth to be great citizens with great character. Nearly $75,000 was distributed to Clubs for 49 projects which were funded by Impact Sponsors: The Walt Disney Company, Grant Thornton and the GAP. Other event sponsors included Ralphs/Food 4 Less, Pacific Youth Foundation, Enterprise Rent-A-Car, Ernst & Young, Grand G&G Inc., Jakks Pacific, KABC-TV, Microsoft, The Reel Inn, University of Phoenix, California Apartment Association, Grant Central, Hobson's and NFL Referee Association.
About the Youth of the Year Program
The Boys & Girls of America Youth of the Year program is designed to promote and recognize outstanding teens' service to Club and community, academic performance, and contributions to family. One youth is selected to represent his or her local Boys & Girls Club organization and serve a one-year term as the teen spokesperson for all their respective Boys & Girls Club members by taking part in community events and activities. The two L.A. County Youths of the Year will proceed to the state-level competition and could continue on to the National Youth of the Year scholarship program. Five regional winners will advance to Washington, D.C., to compete for the title of the Boys & Girls Clubs of America's National YOY. The national winner will receive an additional scholarship of up to $50,000 and will meet the President of the United States in an Oval Office ceremony.
About Boys & Girls Clubs Los Angeles Alliance
The Los Angeles Alliance of Boys & Girls Clubs is comprised of 27 separately incorporated local Boys & Girls Clubs, and serves as a resource and regional fundraising arm for Clubs throughout Los Angeles County. Combined, these 27 Clubs provide after school enrichment programs at nearly 120 sites to nearly 110,000 youth annually. For more information about the Alliance, please contact David Walker at 562.490.6174 or http://www.BeGreatLA.org.
About the Boys & Girls Clubs of America
For more than 100 years, Boys & Girls Clubs of America (http://www.bgca.org) has enabled young people, especially those who need Clubs most, to reach their full potential as productive, caring, responsible citizens. Today, some 4,000 Boys & Girls Clubs serve more than 4 million young people 6-18 years old through Club membership and community outreach. Key programs emphasize leadership development; education and career exploration; community service; technology training; financial literacy; health and life skills; the arts; sports, fitness and recreation; and family outreach.