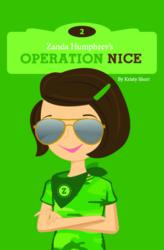 Operation Nice is about being nice—plain and simple," Short stated. "Kids need this instilled early on so as they advance grades being kind becomes innate.
Ypsilanti, MI (PRWEB) March 22, 2012
Michigan children's author, Kristy Short, Ed.D today announced that at the request of PTO members she will visit South Arbor Academy to promote her powerful "be nice" bullying prevention program—Operation Nice. The Operation Nice assembly will take place on Friday, March 23 at 10 am.
During her visit, Short will introduce her anti-bullying themed book and program to the entire student body (K-5)—offered within a high-energy assembly. The book, Zanda Humphrey's Operation Nice, targets elementary school-aged children (K-5)—promoting the "Spread the Nice" message and emphasizing the importance of unity among children to eliminate bullying. The event offers a reading of the book, interactive activities, and a lot of dancing.
"Operation Nice is about being nice—plain and simple," Short stated. "Kids need this instilled early on so as they advance grades being kind becomes innate. My grand vision is to develop a complete anti-bullying program for Operation Nice that would run all year, every year as kids move from kindergarten through fifth grade. With Operation Nice as a part of daily school life, it is far less likely that children will become bullies as they advance to middle and high school."
Operation Nice is the second book in the Zanda series. The book features lead character, Zanda Humphrey, a fourth grade scientist. Operation Nice introduces Zanda's new invention, the BE-BOT (Bully Eliminator – Bio Optic Transformer)—a laser-zapping, caterpillar-crawling, "de-bullyizing" mini-bot.
"Operation Nice is different from any other anti-bullying program because it's tied to the book. The story engages kids from the start. They also develop an immediate loyalty to the book's highly memorable characters, which drive them to continue Operation Nice in their own school." Short stated. "Even better, the anti-bullying message is not one of retribution,
but rather bullying is combated through acts of kindness and unity—and that's the ideal message for kids."
For more information on Kristy Short and the Zanda Humphrey book series, visit ZandaHumphrey.com or the Zanda Facebook page. Contact the author directly at kristy(at)zandahumphrey(dot)com.
For updates on school events, view our updated events calendar at ZandaHumphrey.com.
About Kristy Short & the Zanda Humphrey Series
Kristy Short, Ed.D, has been writing stories for kids since she was a kid herself—creating her first book when she was in the 3rd grade. Also the author of The Dirt Bottom Holler Club, a young adult chapter book, she has a clear passion for writing creative stories about magical inventions and exciting adventures. At the heart of all her stories is a love and necessity for active, perpetual imagination.
The Zanda Humphrey series for young readers was created for Short's elementary school-aged nephew. In 2010, she was asked to participate in her nephew's school's "Mystery Reader" program, and when she wasn't able to identify a book she wanted to read, she wrote her own. Her first book, Zanda Humphrey's Big Sweet Invention, showcases Zanda's Cake-o-matic, a magic cupcake-making machine. Short even demonstrated the invention to students, complete with bubbling potions, rolling smoke, and of course, cupcakes. Described by students as "the best mystery reader ever," Short was asked to return in 2011. For the event, she wrote Operation Nice and created the Operation Nice Anti-bullying program.