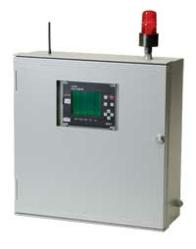 Pittsburgh, PA (PRWEB) March 22, 2012
Oldham announced today that the WX64 gas detection control panel has been certified by Canadian Standards Association (CSA) and now carries the CSA mark of approval. The WX64 has been certified as a signal appliance for use in Class I, Div. 2, Group A, B, C and D hazardous locations according to CSA standards C22.2 No. 1010.1-92, 142-M1987, 152-M1984, 213-M1987 and UL 1604.
Oldham's sixty-four channel controller is the pinnacle of functionality and ease of use. The WX64 can accommodate nearly any combination of 4-20mA, bridge sensor, ModBus RTU, ModBus TCP, and wireless inputs, making it suitable for even the most complex applications. In addition, the WX64 offers a rich set of features including a color display, data logging via 2GB SD Card, zoning, dual RS-485 ports and programmable relays. The WX64 also has a convenient embedded Web page that enables remote viewing and configuring of all 64 channels via a standard Web browser.
For more information about the WX64, visit http://www.oldhamgas.com.
###
About Oldham S.A.S.
For more than 100 years, Oldham has specialized in safety, gas and fire detection systems. Oldham is headquartered in Arras, France and is a subsidiary of Industrial Scientific Corporation. It employs hundreds of people globally and has operations in France, USA, China and Germany. Oldham's mission is to be the best provider of fixed-point gas detection systems worldwide. It offers a wide range of application-driven products, expert advice, and the highest quality and best customer service in all transactions. For more information, visit http://www.oldhamgas.com.
About Industrial Scientific Corporation
Industrial Scientific Corporation is the world's leading provider of Gas Detection as a Service. With more than 850 people working in 20 countries, Industrial Scientific is dedicated to eliminating death in the workplace by the end of this century. Achieving this goal requires dedication to delivering highest quality and best customer service in all transactions. Industrial Scientific also focuses on providing analysis of data from equipment use and maintenance to identify problems before they happen. Industrial Scientific has operations based in Pittsburgh (USA), Arras (France), Dortmund (Germany) and Shanghai (China). The company provides technical services to customers from local service centers around the world, and has additional offices in Australia, Bahrain, Brazil, Canada, Czech Republic, India, Indonesia, Italy, Mexico, Netherlands, Poland, Qatar, Saudi Arabia, Singapore, United Arab Emirates and the United Kingdom. Industrial Scientific is the parent company to Oldham (http://www.oldhamgas.com) and Predictive Solutions Corporation (http://www.predictivesolutions.com). For more information, visit http://www.indsci.com.