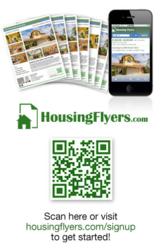 HousingFlyers.com bridges the gap between traditional "print" property flyers and web/mobile virtual flyers by launching a new website for creating both in one step online.
Encinitas, CA (PRWEB) March 26, 2012
HousingFlyers.com launches a new tool for marketing real estate and rental properties. Now, in one easy step, agents and property managers can create unlimited property listings online and generate professional printable real estate flyers and for rent flyers. There is no flyer software to download and learn or flyer templates to download and modify. An online wizard guides the agent through the process of creating online listings and pdf flyers. There are multiple print flyer templates to choose from ranging from 1 to 6 photos. Agents may preview the print flyer online, making changes as needed. The print flyer is saved in the cloud allowing agents to go back and easily edit the flyer to update the price or add new photos.
Each brochure displays a QR Code that mobile users can use to quickly view additional info on the property. Each mobile/web listing has the listing contact information clearly displayed on the page as well as an online web contact form for inquiries.
For a limited time agents can create an unlimited quantity of online listings and print flyers. In order to take advantage of this real estate marketing tool today, while it's still free, agents and property managers should visit HousingFlyers.com.