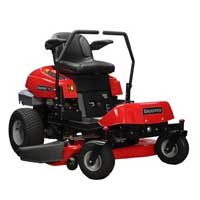 Featuring a solid 22-horsepower engine, this 46-inch Toro ride mower cuts a wide swath through fields of thick grass.
Atlanta, GA (PRWEB) March 23, 2012
10Rate reviewers and staff selected 10 of the best riding mowers for 2012, assigning each a numerical rating as well as awarding three models that stood out for quality, value, and budget. Testing and consideration for this Riding Mowers Top 10 list were given based on the following set of eight criteria:
1. Controls easy to access and operate
2. Comfortable seat
3. Tight turning radius
4. Wide cutting path
5. Powerful motor for cutting and mulching
6. Smooth riding over varied terrains
7. Variable speeds and adjustable deck height
8. Easy handling and maneuverability
The annual Best Riding Mower Reviews 2012 awards list was headed by a John Deere mower, the X304, winning the Best Quality spot and a near perfect 9.5 out of 10 rating. The review noted several strengths of the riding lawn mower as follows: "A highly maneuverable machine, the John Deere X304 has an excellent cutting performance and easy controls. Capable of covering up to 3.5 acres of land, it rides smoothly up and down gentle slopes and varied terrain with its 20-inch-diameter rear tires. Sporting a tight turning radius of 15 inches, it also has an adjustable height up to 4 inches. Convenient features also include cruise control, headlights, and a cup holder."
10rate's editors also gave the Best Value Riding Mower award to the Poulan Pro PB22H54YT in the second place spot. With a rating of 9 out of 10, the review boasted that it "provides great maneuverability with a tight 16-inch turning radius. The controls and foot pedals are easy to access and operate, and the ride is fairly smooth with the automatic transmission and low vibrations from the steering wheel. The headlights are an important feature for safety."
Additionally, the Best Budget award from the Top 10 Best Riding Mowers list went to the Weed Eater WE-ONE for which 10rate noted, "Its 190 cc engine demonstrates a great cutting performance, and three forward speeds with a cruise control feature let you work at your own pace. A compact, narrow machine, it's easy to store. While the controls and comfort are nice, the turning radius is very wide, meaning you'll have to retrace your cutting paths."
John Deere mowers were the only brand listed for multiple models in 10rate's riding mower ratings. Although the brand itself was only recognized for a single model, the Toro Mower review had this to say of the LX468, which earned third place in overall ranking: "Featuring a solid 22-horsepower engine, this 46-inch Toro ride mower cuts a wide swath through fields of thick grass. The controls are well-designed, and the machine starts up instantly with an electronic keystart ignition. Highly maneuverable and possessing a tight 15-inch turning radius, this Toro model makes short work of large properties. Riding it is comfortable, too, with the cushioned steering wheel and foot rests. For $2,299, this riding mower handles cutting and mulching with ease."
10rate.com conducts reviews in various product and services categories and publishes "Expert Top 10 Lists for Everything in your life." The company's web site strives to "Make it Easy" to select from the hundreds of choices there are in the product and service market place. All products and services are thoroughly researched by the companies expert editors prior to receiving a rating on a 1-10 scale. In addition to product reviews the companies editors write guidelines, buying guides and articles on various topics surrounding each product or service category covered to help educate the consumer.