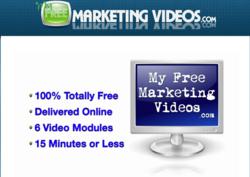 I'm giving free help to any small business owner that wants and needs more customers.
West Chester, Ohio (PRWEB) March 22, 2012
In an effort to help small business owners during the challenging economy, Marketing expert Ron Ipach, owner of CinRon Marketing Group, is making his marketing course available for free at http://www.MyFreeMarketingVideos.com. The marketing course will show you how to attract high quality customers and keep them coming back again and again. Small business owners can learn affordable and easy to implement marketing strategies through this new free online tool while also finding out how to expand their business and increase their profits.
Ipach's proven marketing strategies have helped over 5000 small companies turn their business around. "Most small businesses are not successful because their marketing and advertising methods do not attract the right customers," says Ron Ipach of CinRon Marketing Group. "Learning how to properly market your business and your services for your particular industry and within these economic conditions is imperative for your company to thrive."
Marketing is one of the most essential skills that entrepreneurs and small companies need in their portfolio in order to be successful. However, it is a skill and therefore it needs to be learned. The free course is broken down into five bite-sized chunks of approximately 10 minutes each. The course will teach small businesses how to determine their customer base, how to best approach those customers using only the most effective selling methods, the right way to prepare your advertising materials, how to create marketing and advertising systems and the best approaches to promoting your company online.
All of Ipach's marketing, advertising and promotional strategies are affordable by costing little or no money, are proven to work and they are easy to implement.
What makes Ron Ipach, owner of CinRon Marketing Group, so adept at marketing? It wasn't always that way. A natural entrepreneur, Ipach always knew he was meant to run his own business but the beginning years didn't turn out exactly as he had hoped. He failed, many times over, but he never gave up and his persistence paid off when he learned that the key to a successful business is to work smarter, not harder. His efforts paid off and he went from making $13,000 a year fixing cracked windshields to $13,000 per month within the very first year of applying these new marketing strategies.
Ipach then became a marketing junkie. "I didn't become better at repairing windshields, I became better at getting customers," says Ipach. "This is the most important skill that I could ever have." And he continues to apply all of these same strategies in all of his various businesses today.
Based in West Chester, Ohio, Ipach has been a keynote and platform speaker all over the world, teaching others how to be successful through cost-effective marketing. His uses a simple and common sense approach to marketing. His position is unique; while most other business specialists include some marketing in their assortment, Ipach has pinpointed the one thing that has been proven time and time again to help business owners succeed.
To learn more go to: http://www.MyFreeMarketingVideos.com