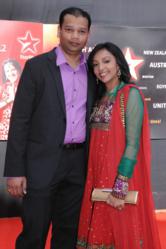 "We were treated like stars and it was an experience that will not be forgotten for ages. Meeting the stars face to face and taking pictures with them was like a dream come true. Thank you Star for making our dream come true." - Deepa Bafna
New York, NY (PRWEB) March 22, 2012
On a recent evening, in Mumbai, amidst the glitz and glamour of the red carpet, soap stars and TV personalities rubbed elbows with each other, and with some everyday people – who happened to be there only because of their luck. Held on March 9th, the elaborate and lavish 2012 Star Parivaar Awards not only brought together celebrated actors and actresses from all of the Star Network shows, but also two fortunate Star India Plus viewers each from the U.S., the UK, Holland, and South Africa. Deepa Bafna had entered the Star India Plus online contest on a whim, and got her fanciful wish fulfilled when she won the contest and attended the glamorous awards ceremony.
The California resident, Ms. Bafna and her husband Vishal Mehta were flown to India for this sensational all-expenses paid trip. Dressed in their finest attire, the couple was treated to an extravagant walk down the red carpet, one-on-one time with some of their favorite soap stars, and most importantly, the thrilling opportunity to shoot an upcoming episode for Starlite. Perhaps, the next time you see them on the red carpet, they may be the stars!!
The winners from the U.S. were ecstatic about their unique experience and once-in-a-lifetime opportunity. Winner Deepa Bafna said, "We were treated like stars and it was an experience that will not be forgotten for ages. Meeting the stars face to face and taking pictures with them was like a dream come true. Thank you Star for making our dream come true." Being deeply devoted to their favorite Star India Plus shows has paid off for us, added her husband, who said that as Star India Plus has provided them with such a remarkable experience and unforgettable memories.
Watch the contest winners and Star India Plus stars, when the spectacular Star Parivaar awards show airs on Star India Plus Saturday March 24th. Tune in at 6:30pm ET/ 3:30pm PT to watch the winners' complete experience in Mumbai on Starlite, which will air right before the red carpet and main event. The Red Carpet will begin at 7pm ET / 4pm PT, with the main event following at 8pm ET / 5pm PT.
About STAR
"STAR India, the leading Media and Entertainment conglomerate, has the highest reach amongst the country's broadcasters, beaming to over 400 million people, every week across India and over 65 countries across the globe. Its portfolio includes 33 channels in eight languages, including STAR Plus, STAR One, STAR Gold, Channel [V], STAR Jalsha, STAR Pravah, STAR World, STAR Movies, STAR Utsav; along with the joint venture channels Asianet, Asianet Plus, Vijay TV, Suvarna, STAR News, ESPN and STAR Sports. STAR India also manages a portfolio of business ventures including DTH operator Tata Sky; Content Aggregator MediaPro; News Channel operator MCCS; Film Production and Distribution Business Fox STAR Studios India and STAR CJ Home Shopping. STAR US:
News Corp Star US LLC is one of the largest distribution network and leading choice for South Asian channels available in Hindi in the U.S. The channel portfolio in the U.S. includes Star India Plus, Star India Gold, Star One and Star News available through both satellite and cable platforms.
News Corp Star US LLC is a wholly owned subsidiary of News Corporation.
Website: http://www.startv.com/usa."