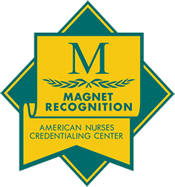 Receiving Magnet recognition for the third time is an unprecedented achievement in our region, says Dr. Mark J. Peters, EJGH President and CEO.
Metairie, LA (PRWEB) March 26, 2012
East Jefferson General Hospital (EJGH), for the third consecutive term, has attained Magnet® recognition as part of the American Nurses Credentialing Center's (ANCC) Magnet Recognition Program®. This voluntary credentialing program for hospitals recognizes excellence in nursing. This credential is the highest honor an organization can receive for professional nursing practice.
"Receiving Magnet recognition for the third time is an unprecedented achievement in our region," says Dr. Mark J. Peters, EJGH President and CEO. "As the first in the state to receive a Magnet distinction in 2002, our nursing staff and entire organization, have helped set the bar for others to follow. For over a decade now, we have performed at a higher level while also demonstrating the leadership, dedication and commitment to continuous improvement."
Being recognized as a Magnet facility for the third time speaks volumes for the level of patient care delivered at EJGH. East Jefferson continues to proudly belong to the Magnet community—a select group of 378 healthcare organizations out of nearly 6,000 in the U.S. Only 52 organizations in the nation have ever received a third, 4-year term. Hospitals must reapply for Magnet recognition every four years based on adherence to Magnet concepts and demonstrated improvements in patient care and quality.
"When we started the journey to Magnet designation over ten years ago, I think it bonded our nursing staff around a common goal," says Janice Kishner, MSN, MBA, FACHE, EJGH Senior Vice President and Chief Nurse Executive. "Today, as we have just earned our third designation, I am still amazed at how Magnet galvanizes our staff and brings a togetherness to the entire organization. We have outstanding clinicians dedicated to patient care, and I am proud to work alongside each one of them."
To achieve initial Magnet recognition, organizations must pass a rigorous and lengthy process that demands widespread participation from leadership and staff. The process begins with the submission of an electronic application, followed by written documentation demonstrating qualitative and quantitative evidence regarding patient care and outcomes. If scores from the written documentation fall within a range of excellence, an on-site visit will occur to thoroughly assess the applicant. After this rigorous on-site review process, the Commission on Magnet will review the completed appraisal report and vote to determine whether Magnet recognition will be granted.
An organization seeking to reapply for Magnet recognition must provide documented evidence of how Magnet concepts, performance, and quality were sustained and improved over the four-year period since the hospital received its most recent recognition.
In particular, the Magnet model is designed to provide a framework for nursing practice, research, and measurement of outcomes. Through this framework, ANCC can assess applicants across a number of components and dimensions to gauge an organization's nursing excellence. The foundation of this model is composed of various elements deemed essential to delivering superior patient care. These include the quality of nursing leadership and coordination and collaboration across specialties, as well as processes for measuring and improving the quality and delivery of care.
According to ANCC, Magnet recognition has been shown to provide specific benefits to hospitals and their communities, such as:

Higher patient satisfaction with nurse communication, availability of help, and receipt of discharge information;
Lower risk of 30-day mortality and lower failure to rescue;
Higher job satisfaction among nurses; and
Lower nurse reports of intentions to leave position.
"Each and every one of our team members can take great pride in this historic designation," says Peters. "We hope that our community celebrates alongside our staff, as this honor signifies that we strive to provide excellence in healthcare to the population we serve."
About East Jefferson General Hospital
East Jefferson General Hospital is a publicly-owned, not-for-profit community hospital. This service district hospital, formed in 1965, receives no tax support from Jefferson Parish. The 420-bed hospital is accredited by the Joint Commission on Accreditation of Healthcare Organizations and is Louisiana's first Nurse Magnet hospital and only three-time designated organization. For more information on East Jefferson General Hospital, visit online at http://www.ejgh.org
About the American Nurses Credentialing Center's (ANCC) Magnet Recognition Program®
The Magnet Recognition Program® administered by the American Nurses Credentialing Center (ANCC), the largest and most prominent nurses credentialing organization in the world, recognizes healthcare organizations that provide the very best in nursing care and professionalism in nursing practice. The Magnet Recognition Program® serves as the gold standard for nursing excellence and provides consumers with the ultimate benchmark for measuring quality of care. For more information about the Magnet Recognition Program® and current statistics, visit http://www.nursecredentialing.org/Magnet.aspx