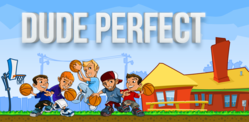 It reminds me of a mix between Angry Birds and Paper Toss, only you are playing basketball, and it's loads of fun. - Cory Gunther, Android Community
Austin, TX (PRWEB) March 21, 2012
As a new, innovative sports game, Dude Perfect features puzzle-based obstacles just like the hottest selling mobile game of all time but adds a unique sports flare as only Dude Perfect could. With March Madness in full swing, this epic basketball game from Dude Perfect is emerging at just the right time.
As a YouTube group with over 72 million worldwide views, Dude Perfect has been able to morph the viral phenomena of their epic trick-shot videos into an addictive game that gives players the same thrill Dude Perfect has experienced nailing impossible shots in their famous videos. Moms: if your kids are addicted to mobile apps don't let them near Dude Perfect!
Reviews of the game are enthusiastic:
"I think this game just might have the same addictive quality as Angry Birds." - David Pena, AndroidSpin.com
"It reminds me of a mix between Angry Birds and Paper Toss, only you are playing basketball, and it's loads of fun." - Cory Gunther, Android Community
"I was a fan of Dude Perfect as soon as I saw the first video. When I heard there was an app for them I downloaded it immediately. I knew it was going to be awesome but the app completely surpassed my expectations! It's a great game and every phone should have it." - 5 Star User Review
"With March Madness in full swing, we want to give everyone at least one game they can count on" - Tyler Toney, Dude Perfect's "Bearded Guy"
The Dude Perfect game sells for $.99 on iPhone and Android, and $1.99 on iPad with a handful of In-App Purchases available, including an extremely popular Custom Level Editor that allows you to build and play your own custom levels.
Watch the Dude Perfect Game Trailer - http://www.youtube.com/watch?v=bQVoygcU1rk
Download Dude Perfect today and find out what everyone is raving about!
iTunes App Store (iPhone) - http://itunes.apple.com/us/app/dude-perfect/id424123969?mt=8&ls=1
Google Play (Android) - https://play.google.com/store/apps/details?id=com.dudeperfect.dudeperfect
About Dude Perfect:
In the past three years, Dude Perfect has made trick-shot basketball videos all over the world, working with Fortune 500 brands such as GMC, ESPN, and Southwest Airlines to create viral videos that have pulled in over 72 million views. Dude Perfect has walked the ESPYs red carpet and been featured on Jimmy Kimmel, Regis and Kelly, and Good Morning America to name a few. Find out more at DudePerfect.com.