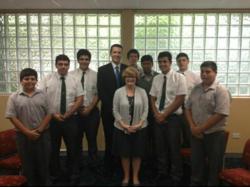 "We are very pleased to now be part of the New Tech success story and proud to be showcasing in Australia what we believe is the education model of the future," Br. Howlett said.
(PRWEB) March 22, 2012
Australia's oldest Catholic school has partnered with a leading United States education group to offer a new approach to high school learning which removes teachers from the front of the classroom and empowers students to learn from each other in problem-solving project teams.
The New Tech Network (NTN) - a California-based not-for-profit education organization which is transforming schools across the United States - developed the "project-based learning" (PBL) model which was adopted by the Parramatta Marist High School in 2008.
Given the notable success of the model at Parramatta, New Tech's senior representatives have flown to Australia to confirm it as the first non-U.S. school in its network and announce it will also become a teacher training centre for other schools in Australia keen to adopt the innovative model.
Under the New Tech model, students take greater ownership of their learning and collaborate in small teams on real life projects which take them through the curriculum in a more creative and engaging way. They have access to state-of-the-art technology and online resources, learn to respect and trust those on their team, and ultimately are required to deliver final presentations to their class or local community representatives as they might in a professional work environment.
This New Tech method results in students developing critical thinking, problem solving and communication skills. By allowing students to master the academic content whilst enhancing these skills, the school is providing a holistic education that prepares students for their future.
Brother Patrick Howlett, who has been Principal of Parramatta Marist for 10 years, is the driving force behind the school's transformation. Sixty-nine year old Br. Howlett first visited New Tech in 2005 and returned inspired.
"We are very pleased to now be part of the New Tech success story and proud to be showcasing in Australia what we believe is the education model of the future," Br. Howlett said. "Revolutionising our classrooms in this way required a leap of faith but we were determined to change because we knew the traditional model wasn't preparing our students for a 21st Century workplace."
"Four years on and the response from students, teachers, parents and even employers has been overwhelming. Our students aren't only achieving better HSC results, they now have skills in critical thinking, creative problem solving, a strong work ethic and an emotional maturity which employers value and recognize, he said.
Lydia Dobyns, President of NTN, said the organisation's success in transforming education was based on three core elements: project-based learning (PBL) as a teaching methodology, a deep integration with technology in classrooms, and a culture shift that occurs throughout the school.
"We now have a network of 86 public high schools across 16 States with over 40 new schools joining in the fall of this year across America," Dobyns said. "It is very exciting to add Parramatta Marist as our first offshore school and establish a strong link to the Australian education system."
Under the model, classrooms are divided into smaller team groups and teachers act as facilitators as their students work together over several weeks to deliver a project that applies key parts of the curriculum, often across several subjects.
PBL projects are designed to engage students in their learning.
Example 1:
Students were required to undertake a community project which involved re-designing a local precinct near a hospital in the Westmead neighbourhood to make it a more attractive and user-friendly public space. By applying skills across Geography, History and English they covered vital aspects of their year 9 curriculum to deliver a concept plan. The local Federal Member of Parliament, council representatives and planning officials were invited in as the students presented their creative proposals.
Example 2:
Year 9 & 10 students were tasked with creating an interactive video game for the school's Year 7 classes to teach those younger students about the influences on the Catholic Church in the Middle Ages. By playing the game, year 7 students would understand key content from their Catholic Studies curriculum, while the older students creating the game were learning computer programming, integrating aspects of the Catholic Church in the Middle Ages and applying creative skills to deliver their end product. The Year 7 students were able to play each computer game and then vote on which best achieved the project objectives.
"Students really do engage when they are presented with an interesting real-life problem to solve and suddenly schoolwork seems far more relevant to their world," said Br. Howlett.
"Just as happens in a workplace, students can find themselves on a team with people they may not normally interact with but it is very interesting to watch as they grow to understand and respect each other's views and rely on each other as no-one wants to let down their team," he added.
Parramatta Marist students have always performed well in the Higher School Certificate but last year, as the first group of students graduated under the PBL approach, 10 percent more students achieved a Band 5 or 6 result in Mathematics Extension 2 and an extra 6 percent achieved Band 5 or 6 results in English Advanced.
Now a recognized member of the New Tech Network, Parramatta Marist will be able to provide teacher training and access to a wealth of PBL teaching and learning resources for other Australian schools interested in following in its footsteps.