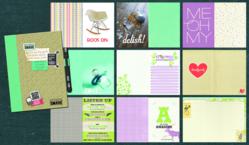 Clifton, NJ (PRWEB) March 22, 2012
Just in time for all of those upcoming bridal and baby showers, K&Company is launching four new gift-able journals from the top-selling K&CompanySMASH* collection.
The totally swoon-worthy Wedding Style folio couldn't be more ready for the big day. This journal lets the new couple sit back, relax, and Smash™ in the never-to-be-forgotten moments of nuptial planning, and all the happy mementos from their special day. So quick and easy, the Wedding Style folio leaves plenty of time to be all lovey-dovey.
First comes love, then comes marriage, but then one needs a little something to go with the baby carriage. Luckily, the Baby Style folio has also made its big arrival. Capture the everyday "aww" and "uh-oh" moments in a flash, because, you know, there's a baby to keep up with now. This journal is sweet, funny and gender neutral.
Since life doesn't stop there, K&CompanySMASH* has a place to tuck in all the other moments, in a big way. The jumbo-sized Pocket and Pretty Pocket folios have enough bound-in folders, pockets and envelopes to hold the really major moments that happen every day. And to accessorize all those journals, check out all the brand-new super functional, yet way stylish accessories, including a label maker, tape, clips, dividers and inserts.
Folios and accessories will be available in March 2012 at http://www.KandCompany.com, and will retail from $2.19 to $21.99. Please contact misty.huber(at)kandcompany(dot)com for more information, high-res images and samples.
About K&Company
K&Company has created a phenomenon within the journaling and scrapbooking industry. The collection of K&CompanySMASH* stylish and functional journals and accessories are designed to allow for quick and easy "smashing" of favorite mementos such as photos, ticket stubs, notes, etc. The more that's added, the better each page looks. Instant inclusion, instant gratification. The collection also hosts a blog. K&Company is a division of EKSuccess Brands.
About EKSuccess Brands
Established in 1978, EKSuccess Brands is one of the country's leading creative consumer products companies. Its diversified portfolio includes more than 10,000 inspirational and creative products covering paper crafting, needle crafting, stamping, jewelry making, kids' crafts, painting and more. Popular brands include K&Company®, Inkadinkado®, Dimensions®, Jolee's Boutique®, Sticko®, Perler®, Martha Stewart Crafts™, and American Girl Crafts®. EKSuccess Brands is a division of Wilton Brands Inc. For more details visit http://www.eksuccessbrands.com. Dream. Make. Celebrate™.
###