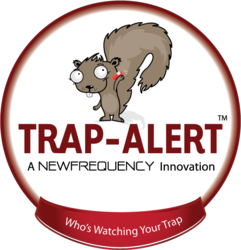 The Trap-Alert™ system is a perfect fit for companies like Zone...
Lawrenceville Ga (PRWEB) March 21, 2012
Zone Pest Solutions® has selected New Frequency's Trap-Alert™ system to support its growing wildlife control business unit. New Frequency's Trap-Alert™ system is a combination of hardware, software, GPS and wireless technologies that enables wildlife control professionals to actively monitor the status and location of animal traps through a web-based application. The Trap-Alert™ system, which includes the Trap-Alert™ web application, phone and tablet applications, significantly increases the management and efficiency of a large number of traps. The need for wildlife control professionals to visit sites solely for the purpose of daily trap inspections are eliminated, allowing the customer to move on with their day.
New Frequency President, Todd Moran, stated that "working with a company like Zone Pest Solutions® is a great fit since they are expanding their nuisance wildlife business unit and we have a shared vision on customer service. Their core values in how they deliver their services are aligned with our own, with customer satisfaction being paramount in Zone's business strategy." He added, "Zone is a growing presence in the highly competitive pest control and wildlife control industry in a major market like Atlanta and is constantly receiving top reviews from both Kudzu users and Angie's List users, which tells us they are delivering a great customer experience." He concluded, "The Trap-Alert™ system is a perfect fit for companies like Zone that wish to further enhance positive experiences for their wildlife customers while increasing their efficiencies."
Brian Donnelly the Wildlife Manager for Zone stated that "using the Trap-Alert™ system allows our company to be in complete compliance with the state of Georgia's Nuisance Wildlife Control Permit Law that now allows the use of the Trap-Alert™ system to conduct trap checks, without inconveniencing customers. This is an improved customer comfort level and a greater convenience by avoiding unnecessary scheduling conflicts inherent in day-to-day trap check schedules." He added, "While recently attending the NWCOA Wildlife Expo in Atlanta we were able to compare the Trap-Alert™ solution with the competition. From our perspective, New Frequency's technology is years ahead of any competition and an ideal fit by being designed specifically for the wildlife industry. This is proven technology with years of field testing completed in several states. Our decision to select the Trap-Alert system was easy, as this product stands well in front of other systems when comparing its superior technology, system features, and most importantly, New Frequency's product support is as good as it gets."
Zone Pest Solutions® is a successful family owned and operated business specializing in pest management and termite control for commercial, industrial, and residential structures. Since 1996, Zone Pest Solutions® has proven its quality workmanship and commitment to customers in the Metro Atlanta area by employing top-notch technicians and providing exceptional customer service. Zone Pest Solutions® is certified by the National Pest Management Association as a Quality Pro Professional. In Georgia, less than one percent of the companies have achieved Quality Pro status. Zone Pest Solutions® offers a variety of Atlanta Residential Pest Control and Wildlife Control services which are guaranteed to meet your needs. More information about Zone's services can be found by visiting their website. http://www.zonehomesolutions.com
About New Frequency
New Frequency, founded in 2008 and headquartered in Cumming, GA, is a developer of software, devices, and complete systems that collect data in real-time from remote assets, and aggregate data into useable and actionable information for better decision making, and accessible over the web. New Frequency's expertise and systems include telemetry data monitoring and management tools, high availability hosting, large data storage, custom reporting and alerting/notifications, and web-based software-as-a-service. New Frequency's web-based solutions are also used in monitoring and managing power, water, gas, and steam as well as equipment status, including location, operation, doors and hatches. Our systems can be employed in gathering and managing nearly any measurement of any asset. More information about New Frequency and the Trap-Alert system can be found on our website.