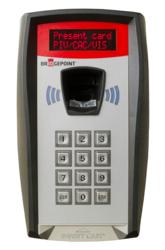 AccessNsite coupled with the innovative technology behind BridgePoint's TrustPoint 3-Factor Biometric Reader provides a high assurance, biometrically authenticated security system.
Santa Maria, California (PRWEB) March 21, 2012
Quintron Systems, Inc. (http://www.quintron.com), the recognized leader in interoperable Enterprise-Class Systems for Security Command Control & Communications, is pleased to announce the integration of its AccessNsite® access control system with BridgePoint's new TrustPoint 3-Factor Biometric Reader. "AccessNsite coupled with the innovative technology behind BridgePoint's TrustPoint 3-Factor Biometric Reader provides a high assurance, biometrically authenticated security system," said Rick Foster, director, marketing & sales, Security Systems Division.
The TrustPoint 3-Factor Biometric Reader is a flexible solution offering a variety of security options including biometric, PIN, and optional PKI challenge-response authentication for increasing or decreasing the assurance level of site security, depending on the user's requirements. The TrustPoint 3-Factor Biometric Reader solution is the only one of its kind that is Public Key Infrastructure (PKI) compatible, using a design that is made to authenticate Personal Identity Verification (PIV) credentials and mitigate electronic cloning.
AccessNsite is a Java-based application that is built on a modular, object-oriented design, providing unlimited system scalability, flexibility, and reliability. The software supports real-time credential validation at initial enrollment and full-time authentication via TrustPoint 3-Factor Biometric Readers and compatible control panels that are installed at one location or many sites worldwide. This leverages Quintron's 'enroll local – access global' advanced data sharing capabilities between globally distributed systems and sites. "The level of access and identity assurance for the connected multi-site enterprise or government agency has never before been higher," states Foster.
"We're excited to collaborate with Quintron, taking advantage of AccessNsite's open architecture to offer an intuitive, user-friendly application that facilitates efficient enrollment via our TrustPoint 3-Factor Biometric Reader," said Tom Corder, president and CEO of BridgePoint Systems. "In designing our product with the latest PKI standards in mind, we created an authentication mechanism that is not only impenetrable – but easy to administer and manage. We are pleased to unveil this latest innovation in smart card reader technology, offering the highest level of security and access control."
"BridgePoint's TrustPoint 3-Factor Biometric Reader harnesses the latest web-based technology, making it possible for security personnel across town, the country, or the globe to allow or deny access—one badge, one face, or one fingerprint at a time," added Foster. "Integrating our AccessNsite system with BridgePoint's innovative cryptographic PKI challenge-response technology, the TrustPoint 3-Factor Biometric Reader, offers efficient data entry, as well as image and signature capture from any location in real-time. We are thrilled to work with BridgePoint to bring this state-of-the-art solution to the security industry."
For more information about Quintron solutions and services call 805.928.4343 or visit http://www.quintron.com.
More About TrustPoint 3-Factor Biometric Reader
The TrustPoint 3-Factor Biometric Reader is the most user-friendly product of its kind. After a user enters his or her PIN, the solution performs a "one-to-one" match between the biometric template stored on a PIV credential and the "live-scan" of a user's finger. When the sensor is ready for a scan, it lights up with a bright red glow and the LCD display, then guides the user through the authentication process. The Reader can also be configured to work automatically or manually with the PKI Challenge-Response in the ON or OFF mode. This feature allows the customer to use the Reader with PACS in security levels I and II, and later implement higher security including levels III and IV.
In addition to matching the biometric credentials, the Reader also verifies the template digital signature per NIST guidelines and, as a result, is HSPD-12 compliant. All BridgePoint 3-Factor Readers can be controlled from the Physical Access Control Panel to operate in a variety of authentication modes including 1-Factor credential only (without a PIN), 2-Factor credential (plus PIN), and 3-Factor (plus PIN and Biometrics).
About BridgePoint Systems
For more than a decade, BridgePoint Systems has delivered solutions to help security managers face an ever-changing landscape of threats and challenges. Located at the edge of Silicon Valley, the company offers innovative technology that embeds public key infrastructure in an agile, user-friendly way for assuring identity in physical access systems. Among other pioneering efforts, BridgePoint Systems was the first U.S. company to develop smart card readers for use by the Department of Defense in a physical access system. The company was also first to integrate the Department of Defense's CAC with biometrics in a real world deployment and first to install an interoperable Personal Identification Verification reader in a government, multi-tenant facility.
Some of the nation's largest government contractors and security integrators such as the U.S. Army, U.S. Navy, U.S. Air Force, U.S. Marines, Army Corps of Engineers, General Services Administration (GSA) and the Department of Homeland Security (DHS) use BridgePoint Systems' technology. All of BridgePoint Systems' products are securely designed and built in the United States. For more information, visit the BridgePoint Systems website at http://www.BridgePointsystems.com or call (510) 346-1510.
About Quintron
For over 42 years, Quintron has provided high technology and cost effective solutions worldwide to government and industry in support of mission critical communications and security requirements for command and control applications. No other company offers the depth of expertise found at Quintron in fault tolerant, interoperable communications, and security systems. In addition to providing advanced products and systems, Quintron's professional technical services capability provides a superior level of customer satisfaction. Quintron's engineering services provide off-the-shelf or customized engineering solutions to solve the toughest of challenges facing customers. Visit http://www.quintron.com or call 805.928.4343 for more information.
# # #
AccessNsite is a registered trademark of Quintron Systems, Inc.
All other trademarks in this release are the property of their respective owners.