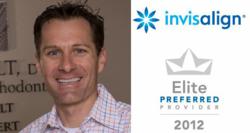 ...truly amazing and humbling at the same time...
Highlands Ranch, CO (PRWEB) March 22, 2012
Highlands Ranch orthodontics provider, Dr. Gary M. Holt, is celebrating the recent announcement that he's been named a Premier Elite Provider for Invisalign. This puts Dr. Holt into an Elite class of orthodontists. In fact, only five percent of orthodontists worldwide can claim this honor.
"It's truly amazing and humbling at the same time. It's proof that being passionate about your work is appreciated by our culture. I'm deeply grateful for all my patients who place their trust in me every day and who give me the great honor of serving them with my passion!" says Dr. Holt, Highlands Ranch orthodontist.
On the heels of joining the top five percent of his profession, Dr. Holt was also informed he made 5280 Magazine's prestigious list of top orthodontists in 2012. Dr. Holt has received this recognition two times since 2010.
Top orthodontists are chosen from a list of peer evaluations, which include more than 500 listings of dentists and specialists in Colorado. The list is compiled from the answer to the question, "If you had a patient who required an orthodontist, which orthodontist would you refer him or her to?"
Those answering the question were encouraged to take into account the Colorado orthodontist's manner with patients, utilization of new technologies and techniques, experience, continuing education and results.
"It's always humbling to experience acts of kindness and encouragement from your patients for a job well done. It's equally humbling to experience those same acts of kindness and encouragement from your peers who nominate you as a top orthodontist in Colorado. I'm deeply grateful to those who nominated me this year!" says Dr. Holt, Highlands Ranch orthodontics provider.
To top off Dr. Holt's 2012 year of recognition and awards, he also recently became only one of three orthodontists in the entire state of Colorado to offer impressionless Invisalign.
This new technology is perfect for patients who struggle with a strong gag reflex. This state-of-the-art technology removes the requirement for the substances used by most orthodontists that are placed into the mouth in order to obtain the impression. This new technology is all digital and very comfortable for the patient. Basically, this digital system takes a scan of the teeth and creates a digital picture of each area of the patients mouth. It's quick, easy and most importantly pain-free.
"We are committed to staying on the cutting-edge of technology especially when that technology improves the overall comfort and positive experience for our patients. Plus, all of our patients love it! Their response of comfort makes the investment we commit to this level of technology worth it every time," says Dr. Holt, orthodontics Highlands Ranch provider.
Highlands Ranch orthodontics provider, Dr. Gary Holt, will be officially recognized for the 2nd time with 5280 magazine's Top Doctors in Colorado award when their June publication comes out.
About Dr. Gary M. Holt Orthodontics
Dr. Holt has been named Best of the Best by the Highlands Ranch Herald, recognized by 5280 magazine as one of the top docs in Denver and holds the honor of being part of only five percent of orthodontist globally who have the title of Elite Premier Provider for Invisalign. He is a public lecturer and published author. He loves living in Highlands Ranch with his wife, two daughters, son, and two Yorkies. He and his wife enjoy cycling, running and both have completed the Ironman Triathlon. In his free time he enjoys running the east-west trail up to Highlands Point or cycling Deer Creek canyon, where the views are amazing.
For media inquiries, please contact Dr. Holt by email at info (at) drgaryholt (dot) com or stop by the office:
Gary M Holt DDS PC
4185 E Wildcat Reserve Pkwy #100
Highlands Ranch, CO 80126
(303) 738-3175