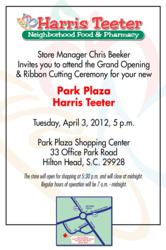 Charlotte, N.C. (PRWEB) March 22, 2012
Harris Teeter is proud to welcome shoppers back to their remodeled Park Plaza Harris Teeter on April 3, 2012. The company closed its original Park Plaza location in November 2011 to allow it to finish constructing a replacement store on the same property. The new structure is over 15,000 square feet bigger than the original store built in 1988, and Harris Teeter associates returned to work in mid-March to restock shelves and prepare for the grand opening in April.
Redeveloping existing locations not only helps Harris Teeter continue to operate at the highest level possible on behalf of its customers, but it also gives the company the opportunity to introduce more sustainable, energy-efficient designs and practices to its facilities as part of routine maintenance. Shoppers may notice new features in their Park Plaza Harris Teeter including motion detection lighting, LED lighting in cases, as well as doors on medium temperature cases in both the Farmers Market and Butchers Market and water-saving devices on all hand sinks.
Your new Harris Teeter will also feature amenities that were not available in the previous store including a cooling station with misting for bikers/walkers; a salad bar, Asian bar and cheese kiosk; and a pharmacy.
Fast Facts:
Store Address: Park Plaza Shopping Center
33 Office Park Road
Hilton Head, S.C. 29928
Grand Opening Date: Tuesday, April 3, 2012
Grand Opening Hours: 5 p.m., ribbon cutting
5:30 p.m. – midnight, store open for business
Square Footage: 50,300
Check-Out Lanes: Eight checkouts and five USCAN checkouts
After the grand opening, the store will open on Wednesday, April 4, 2012 at 8 a.m. and will close at midnight. The stores' regular operating hours starting April 5 will be 7 a.m. – midnight.
Features and Departments:
Full-service Meat Department with Rancher Beef, HT Reserve Angus Beef and HT Naturals Natural Beef • Full-service Fishermans Market • Shrimp Party Trays • Farmers Market Produce • Full-Service Floral and Custom Floral Arrangements • Produce Party Trays • Gift Basket Program • Full-service Fresh Foods Market Deli/Bakery • Sushi • Self Serve Olives • Salad Bar • International Cheeses • Chef Prepared Foods to Go • Custom Cakes including Ice Cream Cakes and Wedding Cakes • Hot Asian Bar • Sub Shop and Made-to-Order Sandwich Program • Fresh Made Salads • Pizza Bar • Party Trays • Boar's Head Meats & Cheeses • Slicing Meats & Cheeses • Italian Meat Selection • Artisan Breads • Rotisserie Items • Organic, Natural and Specialty Foods • Wine, Wine Consultant and Imported Beers • Pharmacy • Western Union • Coinstar • Red Box DVD Rental Kiosk • Double Coupons • Club 60 Senior Discount • Carryout Service • USCAN • Express Lane Online Shopping • Sit-down eating area featuring 26 indoor seats and 32 outdoor seats