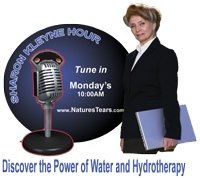 Grants Pass, OR (PRWEB) March 22, 2012
Sharon Kleyne, founder of Bio Logic Aqua Research and host of the Sharon Kleyne Hour Power of Water syndicated radio talk show, has long advocated more research into the physical properties of water. A recent discovery by Shui-Yin Lo, PhD, which he calls "stable water clusters" or "double helix water," has demonstrated the health potential of continued water research.
Shui-Yin Lo was interviewed by Sharon Kleyne on her radio talk show on February 26, 2012. The interview may be heard on-demand on World Talk Radio, Voice America, Green Talk Network and Apple iTunes.
"Water is the basis of all life on Earth," Sharon Kleyne explains. "Yet water is largely overlooked in medical research, possibly because water cannot be formulated or patented. I am extremely pleased that visionary scientists such as Dr. Shui-Yin Lo are attempting to reverse this trend."
Far more study is needed, according to Mrs. Kleyne, on dehydration (water loss) as a contributing factor in disease and on the health role of humidity in the air.
Dr. Shui-Yin Lo began his water research career as particle physicist in China, where he became interested in the physical properties of water, which he describes as "highly complex." His research specialty became discovering the parameters of water behavior under extreme laboratory conditions.
He predicted, and later verified through experimentation, that extremely pure water, when charged with extremely diluted salt ions, will form solid stable water clusters (double helix water) with many unique properties. Water, according to Shui-Yin Lo, contains many molecules but only three atoms per molecule. Water molecules are dipolar, with a positive side and a negative side that is much stronger than a magnet.
These ionic charges, Shui-Yin Lo suggests, could eventually provide physical proof of the fourteen "meridian lines" hypothesized in traditional Chinese medicine, which are the basis for acupuncture and other therapies. He was written a book on the subject, Biophysics Basis for Acupuncture and Health (Dragon Eye Press, 2004).
Double helix water many also have some benefit in stimulating the body's protective "t-cells," promoting detoxificaton and preventing autism.
Website: http://www.doublehelixwater.com.
Sharon Kleyne Hour Power of Water is sponsored by Bio-Logic Aqua Research, whose Nature's Tears® EyeMist® is an all-natural, all-water, personal, hand-held humidifying device to alleviate symptoms of dry eye. Nature's Tears® EyeMist® is available at http://www.BioLogicAqua.com, Amazon.com, drugstore.com and selected drugstores nationwide.
Listen to the Sharon Kleyne Hour Power of Water Mondays, 10 a.m., PST/PDT. The syndicated radio talk show is heard on Voice America/World Talk Radio, Green Talk Network and Apple iTunes. Go to http://www.SharonKleyneHour.com for written summaries and on-demand replays. Also visit http://www.naturestears.com, http://whatistheeye.wordpress.com, "Nature's Tears EyeMist" on Facebook and "Bio-Logic Aqua" on Twitter.
© 2012 Bio-Logic Aqua Research