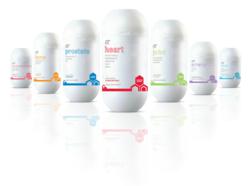 Tahitian Noni International just announced the release of seven new Fit Body Composition Supplements
Provo, UT (PRWEB) March 23, 2012
Tahitian Noni International (TNI) just announced the release of seven new Fit Body Composition Supplements: Fit Artery, Fit Bone, Fit Eye, Fit Heart, Fit Joint, Fit Menopause and Fit Prostate. Each product has been specially formulated to address specific needs and have been formulated to complement the rest of the Fit Body Composition System. The products will be available for sale on Saturday, March 24. Orders can be placed online at http://www.tni.com or over the phone 1-800-445-2969.
Fit Artery
Fit Artery contains EPA, DHA, Gamma Linoleic Acid, Noni and highly effective levels of Omega-3 fatty acids from fish oil (mercury-filtered and safe for pregnant and lactating women), that promote artery health.*
Fit Bone
The powerful bioactive blend in Fit Bone is derived from highly bioavailable vitamins and minerals such as Calcium, Vitamin D, Vitamin K2, Magnesium and Noni–which are more easily absorbed by the body to support optimal bone health.*
Fit Eye
Fit Eye provides an exclusive formulation of Astaxanthin, Zeaxanthin, Vitamins C and E, Zinc, Noni, and research-recommended levels of Lutein, to support optimal eye health.*
Fit Heart
The proprietary bioactive blend of CoQ10, Grape Seed Extract, Garlic, Quercetin, and Noni in Fit Heart also includes highly effective levels of phytosterols that may reduce the risk of heart disease by lowering cholesterol.
Fit Joint
Fit Joint delivers a unique bioactive blend that includes Glucosamine, Chondroitin, and Hydrolyzed Collagen, proven in numerous studies to rebuild cartilage while promoting joint health and flexibility.*
Fit Menopause
Fit Menopause contains a proprietary blend of Isoflavones, Black Cohosh, and Noni, including a unique combination of Red Clover and Chaste Tree, that are proven to alleviate the symptoms of menopause.*
Fit Prostate
The exclusive blend of Saw Palmetto, Lycopene, Vitamin E, Zinc, Selenium and Noni in Fit Prostate are recommended by urologists and proven to promote prostate health without harmful side effects.*
For more information about the Fit Body Composition System, please go to http://www.tni.com/fit.
About the Company
Tahitian Noni International (soon to be Morinda Bioactives in April) is a global, research-driven bioactive products company that was the first to introduce the health benefits of the noni plant—a bioactive-rich, adaptogenic plant, containing iridoid compounds—to the world outside of Tahiti. Tahitian Noni International is the leader in the discovery, development, manufacturing, and marketing of noni-based bioactive products including nutritional supplements, beauty, and weight loss lines. Headquartered in Provo, Utah, Tahitian Noni International is the world-wide leader in bioactive supplements.
*These statements have not been evaluated by the Food and Drug Administration. This product is not intended to diagnose, treat, cure or prevent any disease.